It's well known that Leonardo DiCaprio and Rihanna both regularly crush life and have completely sick lifestyles of partying almost all the time, so it's no surprise that when they came face to face at the Playboy Mansion of all places that they allegedly got it on.
The occasion was designer Nikki Erwin's 30th birthday party and there were a whole host of celebrities there, including 50 Cent, Paris Hilton, Tom Hardy, Pamela Anderson, Naomi Campbell and Tobey Maguire (Tobey Maguire – who cares?). Leo was reportedly 'getting steamy' with Rihanna and even 'swapping spit' with her, as confirmed by a number of anonymous eye witnesses and also this tweet from Playmate Carly Lauren who hastily deleted it.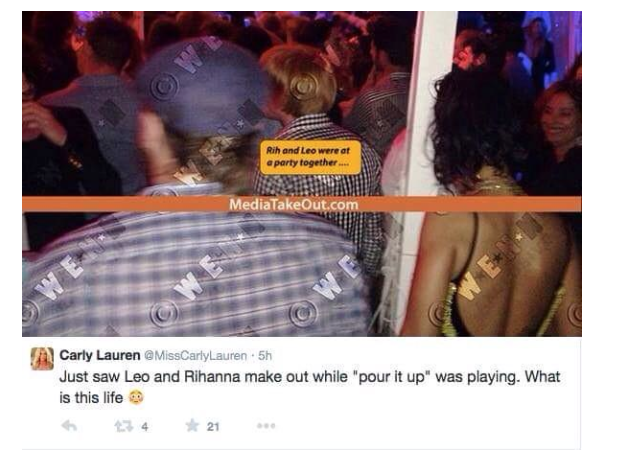 Leo also managed to pull off an early contender for photobomb of the year (although not as good as this amazing one on Kim and Kanye from the start of 2013), with this one of him lurking in the background as 50 cent and Naomi Campbell enjoyed each other's company. Looks like Leo will crush 2015 like he did 2014 if he keeps rolling like this.