Biggest 'football' story over the last few days has been Manchester City's Kyle Walker getting busted throwing a sex party with 2 prostitutes and a buddy of his, which was just a tad bit irresponsible and hypocritical coming from a famous athlete who had urged fans to stay home during lockdown.
Featured Image VIA
Well the good news is that since one of those hookers sold her story to The Sun, Kyle Walker has been self-isolating at home. Bad news is he's still got the raging horn and was caught in the Instagram Live comments of Tory Lanez's latest stripper show. It's basically a daily strip/twerk contest that rapper Tory Lanez is hosting on IG during quarantine:
Tory Lanez insta live has me in bits 😭 pic.twitter.com/aktAXk5j2X

— AD (@Madtinggg) March 26, 2020
Here's the screenshot where Kyle Walker drops a crying face emoji. Using the tears as lube maybe?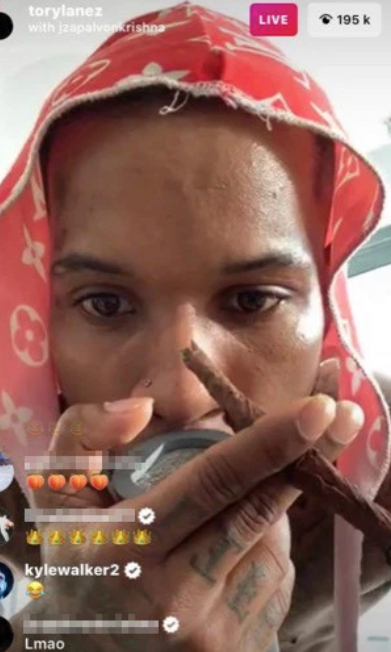 Walker was joined in the chat by Three Lions teammates Marcus Rashford, Jadon Sancho and Raheem Sterling, and it sounds like Gareth Southgate won't be too happy about it, according to a source who spoke to The Sun:
I don't think England boss Gareth Southgate, or the players' club managers, will be enamoured at their stars participating in these kind of ­tawdry sex shows.

But at least Walker and Co are getting their kicks from home and following isolation rules.
Bit harsh? I mean it's not exactly a huge deal that Kyle Walker and other England stars are watching half-naked girls Twerk on Instagram during quarantine. After all, who amongst us hasn't? It's just not great timing for him considering he's only just been busted with those hookers and fined £250,000 over it. Not to mention it looks like his England career is over too.
Horniest player in the Premier League? You'd have to assume so on this evidence.