Man City footballer Kyle Walker has apologised today after he got busted hosting a sex party at his flat in Hale, Cheshire, with two hookers and a friend, instead of social distancing like the rest of us. 
Featured Image VIA
Walker had called on fans to social distance and help prevent the spread of Covid-19, meanwhile he was having a foursome with 21-year-old escort Louise McNamara, another unnamed Brazilian escort, and his non-footballer buddy. 

I guess he can argue that he was staying home, the problem is he got too horny and invited his friend and two hookers round.
The maddest part is how careless he was in protecting his identity. Via The Sun:
The single mum says the player, who she took snaps of stripped to his undies, said his name was "Kai".
Kai? Your name is Kyle FFS. That's like me saying my secret name is 'John' when I'm called Jonathan. I mean firstly, you're a famous English footballer, so that's probably the #1 reason you were busted. But also secondly because you were dumb enough to say your name was 'Kai'. 
This part however really takes the biscuit:
Walker tried to keep his identity secret but after the girls went for a cigarette on the balcony, the other told Louise "Kai" was a "soccer player".

Louise said: "I didn't know who he was at the time.

"But I took a few photos of him."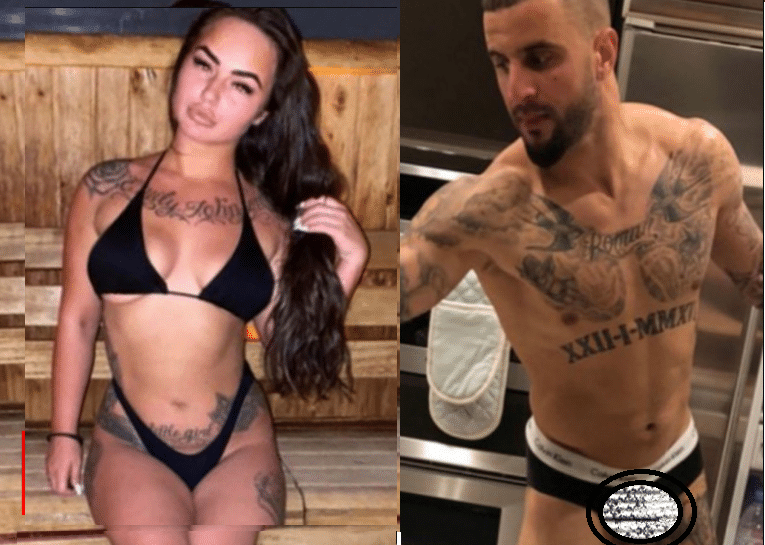 How is a veteran of the game like Kyle Walker allowing this girl to bring her phone to the party, let alone take pictures of him? Well of course Louise McNamara is going to run to The Sun straight away and sell her story and photos for £££. That's like rule #1 of any celebrity doing things they shouldn't – don't let anyone take pictures of you.
Well anyway, Kyle Walker has put out this statement:
I want to take this opportunity to issue a public apology for the choices I made last week.

I understand that my ­position as a professional footballer brings the responsibility of being a role model.

As such, I want to apologise to my family, friends, football club, supporters and the public for letting them down.

There are heroes out there making a vital difference to society at the moment, and I have been keen to help support and highlight their amazing sacrifices and life-saving work over the past week.

My actions are in direct contrast to what I should have been doing regarding the lockdown.
Don't know about you but I forgive him – after all, he was staying indoors, so that's got to count for something. Unlike Jack Grealish who hit up a massive house party before crashing his Range Rover. Come on lads – sort it out.