Just when you think you've seen it all at your favorite fast food restaurants – I mean there's no way you thought KFC would be selling vegan chicken a few years ago is there? – they pull something out of the bag like this that is a complete and utter game changer.
Featured Image VIA 
The Nug-A-Lot burger is now available on the secret menu over in Australia for around £4.99 and features an iconic Original Recipe Fillet, cheese, supercharged sauce, mayonnaise, and golden chicken nuggets surrounding it all. In order to get your hands on it, you need to decipher the following riddle that was posted on the KFC Australia website: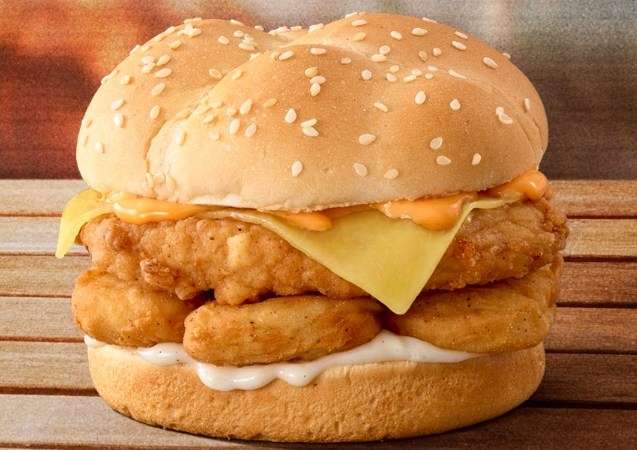 This gift to the world, it's time to bestow, Solve my riddle to discover where to go.

Find the place in the app where the food is on show, Swipe down and hold for eleven, nice and slow.

My secret you'll find when the Colonel says hello, But make sure you keep it on the down low.
I mean that's just a dumb fancy way of saying download the KFC app and then order the food on it right? Gotta love how all these special offers get you to download the app haven't you?
Apparently there are going to be a whole host of other secret menu items coming soon over there as well. Hopefully if you just go into KFC over here they will have heard of it and know what you're talking about and rustle you one up. Can but try, although you might look a little stupid when the guy just stares at you blankly with a WTF look in his eyes. Probably worth the risk.
For more of the same, check out this job which actually pays you to eat KFC all day. Heaven.