People say a lot of things about Katie Price, but it's easy to forget that she's a single mum raising five (?) kids, one of which has a number of physical and mental disabilities.
Featured Image VIA
OK you might say she doesn't exactly help herself by changing boyfriends every week and going on coke benders abroad but hey, no one's perfect right?
Well one thing Katie Price has always been keen to change about her family situation is to get Harvey's dad, ex-footballer Dwight Yorke, more involved with his son, who is now 18.
Katie was hoping Dwight would see the widely-praised 'Katie Price: Harvey and Me' documentary, which gives an honest and touching depiction of the joys of family life, but also the struggles Katie has faced raising Harvey.
Unfortunately, Dwight is still MIA, and according to one of her reps who spoke to The Sun, Katie is 'angry and disappointed':
Katie is sadly somewhat resolved to this being the usual outcome – Katie has made it quite clear however that the door will always be open to change that at any time.
Dwight cut all communication with Katie when Harvey was a toddler, initially even refusing to acknowledge that Harvey was his until Katie took a DNA test.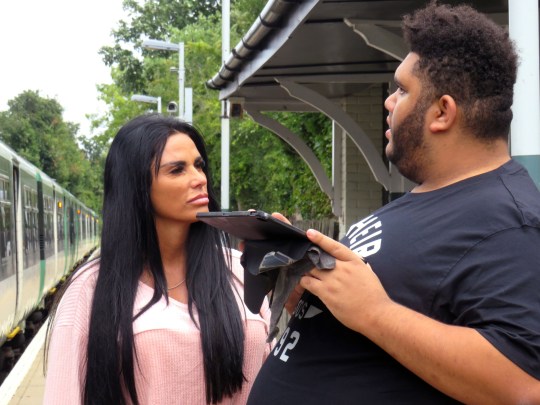 He later acknowledged Harvey as his son in an interview with Kay Burley, admitting he 'wasn't the perfect father'. Doesn't really seem like he's interested in changing that though, especially as he apparently doesn't even contact Harvey on his birthdays.
Last year, Katie came up with a plan to grab Harvey and a camera and just show up on Dwight Yorke's door step to surprise him on camera:
That would have been must-watch content for sure, but I guess she thought better of it in the end. No use just turning up and trying to shame him into being involved in his son's life, as fun as it might sound.
Katie had previously written this about Yorke in (one of) her autobiographies:
The last time Harvey's biological father Dwight Yorke saw him, which was around eight years ago, the first thing he asked was why Harvey was so big. Why was I overfeeding him?

I'd explained Harvey's condition to Dwight many times, but he refused to understand it and kept going on about him being fat.

It's sad that he is unable to accept Harvey for who he is and seems unable or unwilling to work within his limitations.

On that occasion, I think Dwight wanted to blame someone for the fact that his son is disabled.

I have always said that if Dwight could see what a courageous and talented boy Harvey is then he would enjoy being with him so much.
Does Dwight even pay child support? You'd like to think so. Come on Dwight, Harvey's an absolute legend! Do the right thing.
For the 'Jihadi Harvey' meme that caused a stir online, click HERE.