Most of you have probably already seen this by now but the site was being a dickhead to us yesterday so we couldn't post it. It's already trended a few times on Twitter. We know. We're trying our best. We figured it was worth posting anyway because we don't want anyone to miss out.
Basically, this stuck-up bitch was on This Morning the other day, trying to promote her system of judging other kids' worthiness of socialising with her own kids by the classiness of their first names alone. All she succeeded in doing was showing the world what a disgustingly haughty, hoity-toity, imperious, pompous ogre she is. I've never seen a real person like her before. I wasn't sure they existed. It's sociologically fascinating.
I'm not gonna spoil any of the lines for you because she comes out with some real zingers. Make sure you listen to the bit at about 5:50 when she completely contradicts herself and doesn't care. If you're getting bored, or nauseous, skip to about 9 minutes to see Holly finally lose her patience – completely shutting her down with such abruptness that the witch's repulsive smirk instantly reverts into a picture of pure, confused shock. Holly, I like the attitude. You just got even sexier.
Phillip's faces are pretty funny throughout as well.
Get a load of this monstrosity:
☛ More Holly Willoughby: Holly Willoughby Interviews The Man With The World's Largest Penis
[yframe url='http://www.youtube.com/watch?v=edZjdgU0asM']
How can 9% agree with her?! What the fuck people?!
One of the things that annoys me most is that she uses names like Chardonnay and Tyler as examples of bad names and names like Illiana and India as examples of good names, which covers about 0.001% of possible names. I don't know anyone with any of the names she's mentioned. What about Johns? James's? Bens? Franks? Adams? What about African names? What about Asian names? How does she judge a Muhammed? A Muhammed could be anything from Saudi royalty to a future terrorist. Illiana could be a future fucking terrorist for all she knows.
Obviously I had to Google her to find out who the hell she was and why she was worthy of an interview on daytime television, and so I quickly found myself on her Wikipedia page. Some of you might recognise her from when she was on The Apprentice or I'm A Celebrity. But there's actually so much more to her than that.
In light of this interview, her Wikipedia page is genuinely hilarious. The dryness of the writing style only makes it funnier. Her life has been incredible. If you can't be arsed reading that I'll give you the highlights.
First she tried Officer Cadet Training at Sandhurst and failed due to being deemed medically unfit, before being a stand-by contestant for Big Brother and appearing in an un-aired pilot. Then she left her lover of five years for her boss, who was fifteen years older than her and no doubt much richer.
Then she went on The Apprentice and had a televised affair while still married to the old dude (skank), and emerged as a hate figure in the media, being compared to Cruella de Vil, Widow Twankey, Darth Vader, The Wicked Witch of the West, Miss Piggy and Patrick Bateman. Then she had another affair with a married man (fuckin' skank.), which was revealed when "photographs of them emerged depicting them apparently engaged in sexual intercourse in a field." Then she married that guy on an episode of Celebrity Four Weddings and had a son with him which they 'intelligently' named Maximillian William (pause for laughter) (pause for pity for Maximillian William — I bet he's completely insufferable and it's not his fault).
☛ More Dumb Names: Woman Names Her Baby Hashtag; Twitter Users Go Crazy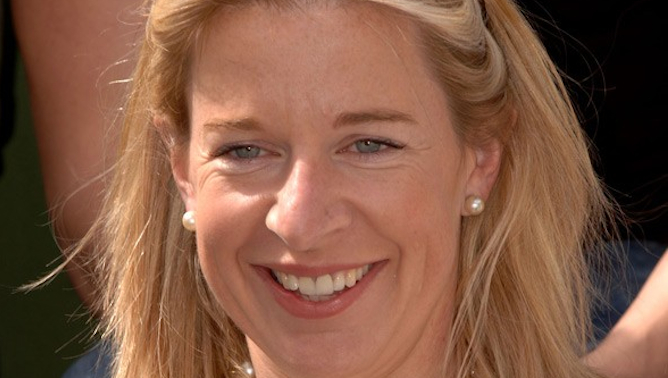 She said in an interview one time about the cost of her affairs and divorces: 'There was the £1 million family home, the London flat which fetched another £500,000 … a couple of pension plans … the people carrier and three other cars … boarding school education adding up to half a million pounds … not to mention the gym memberships…
'Aside from all those things which those men lost or had to pay for, there was also the cost of two barristers on retainers – including Prince Charles's lawyer Fiona Shackleton – because their affairs with me led to costly divorces…
'It's only the other day that I started to think about all of these financial consequences. Up until then, I don't think I had felt much remorse. At the time I had the affairs, I was in love and interested only in my own happiness.
'I estimate that it has cost up to £3 million in divorce costs and lost assets for the men involved with me. That's how much has been lost for me finally to achieve this happiness.'
Well isn't it great that she's finally found happiness.
AND THEN she ran for fucking M.E.P. for South West England!
What the fuck is wrong with her?! Jesus Christ…
But you wanna know what the great news is? She has Twitter! Check her out HERE.
People have been laying into her since tea-time yesterday. Go and join the party!
☛ More Insufferable Rich People: The Rich Kids Of Instagram