At a time when racial tensions are running high across America, one of the worst things you can do is fake a hate crime (shout out Jussie Smollett) that undermines real victims of racial abuse.
Worse still is when you falsely accuse people of racism and destroy their lives in an effort to go viral, as Seattle-based 'viral star' Karlos Dillard did recently. Watch below:
This Karen cut me off, break checked some almost causing a accident flipped me off and called me out of my name. She didn't know I had time today. #karenareyouokay #karen #blacktwitter pic.twitter.com/sQsKpLcE6D

— Karlos Dillard (@wypipo_h8) June 23, 2020
So Karlos begins the clip and a series of Instagram stories he put together on the incident describing a road rage confrontation with this 'Karen', but later escalates this – without a shred of evidence – into a claim that this woman was racist towards him. The woman, who has a black husband, is clearly unbelievably distressed and goes into meltdown as Karlos films her face and license plate number and blasts it all over the internet. The woman has since gone viral and been doxed and is being abused all over social media.
Anyone with a shred of empathy seeing how traumatised this woman is would put the camera down and give her a chance to speak properly. Instead, Karlos keeps winding her up, taking advantage of the popular Karen meme of white women using their privilege to engage in racism, as a means to portray himself as a victim and boost his social media status.
Well according to research by Heavy and others on Twitter, Karlos Dillard has previous form here. He has a history of falsely accusing white and Asian women of calling him the N-word while filming them. Here's another example:
I just had a racist Asian lady demand to see my ID and my phone to prove that I was a postmates driver while I was picking up the food. After I refuse to show her my ID. I told her she was being racist and she said whatever Nigger. #blm #postmates @Postmates pic.twitter.com/l2eJQx0u6t

— Karlos Dillard (@wypipo_h8) May 28, 2020
Karlos has also been selling 'Karen' T-shirts that reference the incidents. Bit convenient?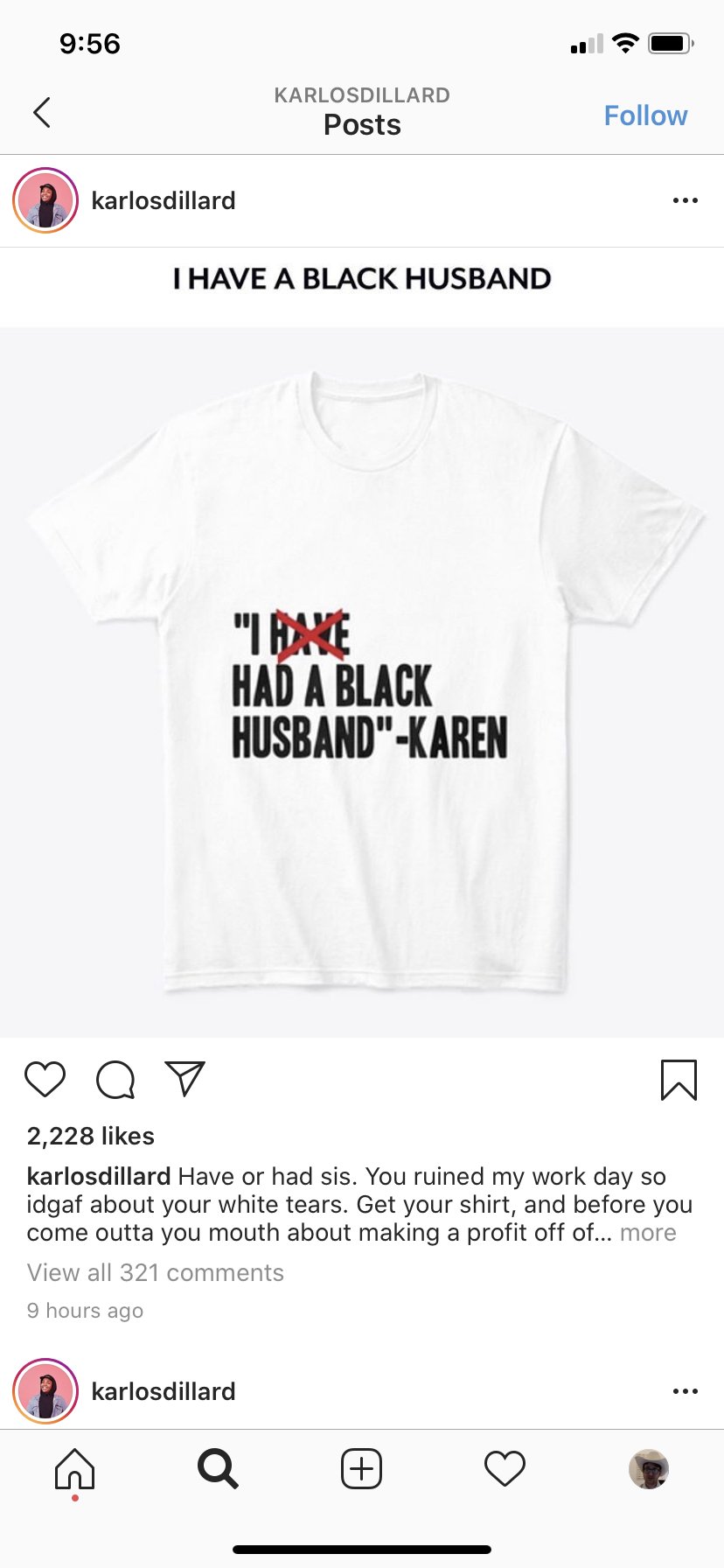 He also has a website where he describes himself as "more than a viral video star":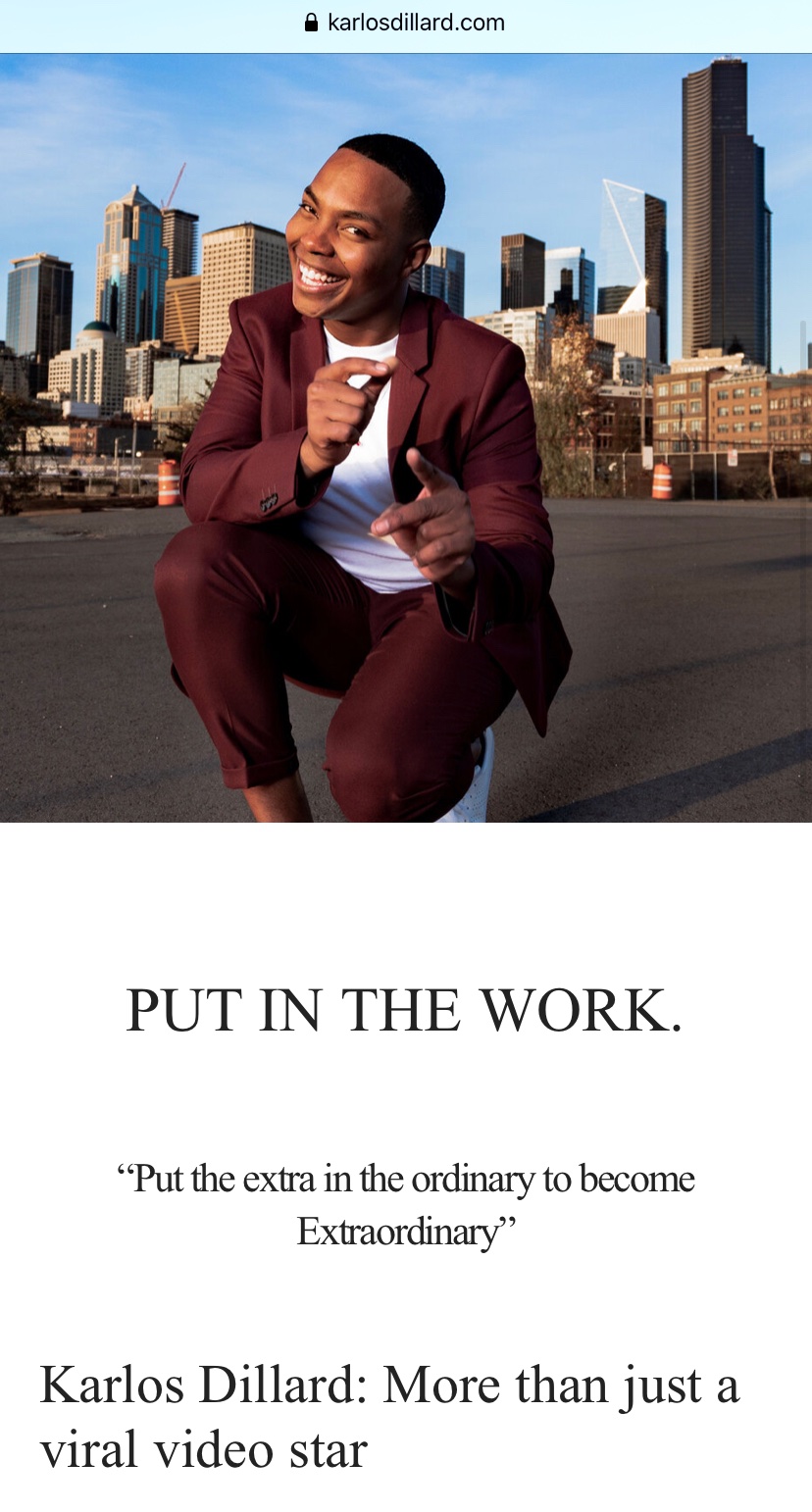 Additionally, he appeared on an episode of 'Divorce Court' in 2018 and published a memoir about his life in February 2020 (who even heard of the guy before this?). Most amazingly though… Karlos Dillard is a gay Trump supporter! What?!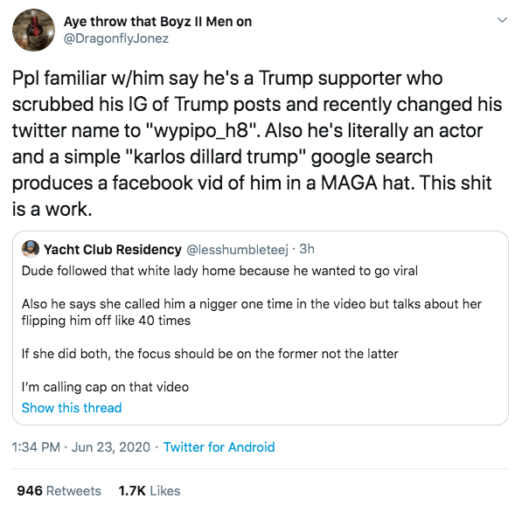 Here are some of the things people have been saying about Karlos since his video got called into question:
This guy's entire shtick is approaching people in Seattle, accusing them of being racist, and then trying to make the vids go viral. In both this one and the 'Karen' one, he just casually mentions, in passing, them calling him the N-word, as though that wouldn't be the main thing https://t.co/ppWRcJFTeq

— Jesse Singal (@jessesingal) June 23, 2020
Plot twist….So apparently Karlos Dillard makes a habit out of calling non black women racist in an attempt to go viral and for profit. He is a gay conservative Trump supporter that agreed that #philandocastile… https://t.co/p0WokL3y17

— Teantheshade (@Teantheshade3) June 23, 2020
Karlos has a problem with women—here's a restraining order against him from last June for harassing a woman. https://t.co/Td7BEj8gwE pic.twitter.com/x2rtiZCrxk

— TrueAnon Pod (@TrueAnonPod) June 23, 2020
Yall that Karlos Dillard guy from the I have a black husband video is a HUGE TRUMP SUPPORTER 🤢🤢 hes deleted his pro trump posts from instagram but the receipts are out there, he can handle his shit now

— clay (@ClayHartsock) June 23, 2020
Yall that Karlos Dillard guy from the I have a black husband video is a HUGE TRUMP SUPPORTER 🤢🤢 hes deleted his pro trump posts from instagram but the receipts are out there, he can handle his shit now

— clay (@ClayHartsock) June 23, 2020
Dude followed that white lady home because he wanted to go viral

Also he says she called him a nigger one time in the video but talks about her flipping him off like 40 times

If she did both, the focus should be on the former not the latter

I'm calling cap on that video

— Yacht Club Residency (@lesshumbleteej) June 23, 2020
Bro has started a whole t-shirt line from the incident and the video subsequently going viral. I can't call it either way since I wasn't there, but…….. pic.twitter.com/mtpiZd8g55

— Bald Bunyan (@WMack) June 23, 2020
That shit is Jussiet Smoillet part 2. BIG cap.

Dude is trying to personally capitalize on the current racial animus in society, instead of using it to further collective black goals and ion like that shit.

— At Last (@atlaz_chugged) June 23, 2020
I hope someone is able to sue the shit out of Karlos Dillard. Extremely evil.

— Jesse Singal (@jessesingal) June 25, 2020
Y'all…

Do not buy any t-shirts from Karlos Dillard from that Karen video w her saying she has a Black husband. Dude is a Trump supporter & cares about HIS Black life, NOT YOURS. He's trying to come up off of Black pain yet support policies that are harmful to Blk ppl. No.

— Count Blockula✊🏾 (@CandyGyrlFiyah) June 23, 2020
Karlos (Karen) Dillard has a history of making false Karen statements and doxing people. pic.twitter.com/2ALQ3mVBux

— Wittorical (@Wittorical) June 23, 2020
So thanks to the power of the internet, it looks like people are catching on to this guy's bullshit. Unfortunately, the video has already been viewed over 4 million times and is STILL on Twitter even though it's been reported a bunch of times. The lady's name and address have been passed around online which we won't be sharing, so I'm afraid the damage may have already been done. Like that one Tweeter says let's hope this lady or another one of his victims take his arse to court and make him realise that you cannot get away with diabolical shit like this.
To meet a real Karen, get a load of this woman who sat on a teenager's car so her daughter could get a parking spot first. Mum goals?