Jihadi John – the face of ISIS's horrific beheading videos – has had his true identity revealed to the world. There had been previous claims that he was a rich boy rapper from London known as Abdel-Majed Abdel Bary, but the Washington Post are now naming him as Mohammed Emwazi – another London resident.
He's described as being from 'a fairly well to do family' from West London and graduated from the University of Westminster with a degree in computer programming. Apparently Emwazi was polite, liked to wear stylish clothes but always adhered to the pillars of the Muslim faith and was mindful of looking women in the eye.
He was allegedly radicalised after a trip to Tanzania that he took to celebrate his graduation. The trip was never completed though as Mohammed and his friends were held and questioned in Dar El Salaam overnight and then deported the following day. Upon his return he was incensed upon his treatment and moved to Kuwait. Every time he returned to England though he was detained by counterterrorism officials, which only served to heighten his hatred of the West. It's not certain if he became radicalised before, after or during these incidents, it's just known that they occurred at this point.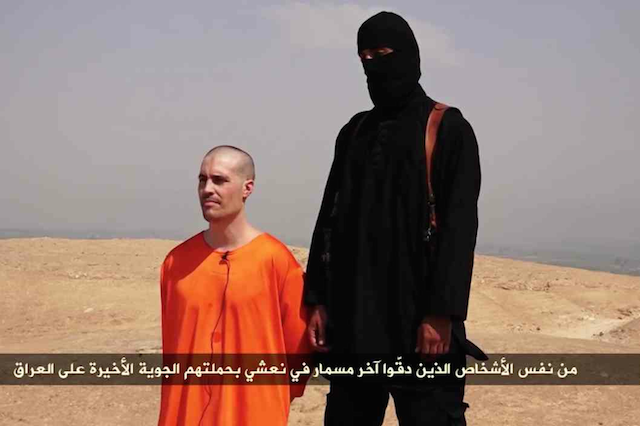 Image VIA
Emwazi is believed to have arrived in Syria in 2012 and wasted no time in joining up with the Islamic State and rising through their ranks. Upon his departure there he left little trace of his existence via the internet and social media, which is why it's been so hard to track him down and there are currently no available pictures of him.  It's thought that his name was revealed by some of his former hostages who have been released, although both Scotland Yard and Downing Street have refused to comment on the revelations. Allegedly they have known his identity for some time but have refused to divulge it as it could compromise operational integrity.
Indeed, the FBI claimed they knew his identity as long ago as September, using several techniques such as voice analysis and interviews with hostages to achieve this positive identification. Asim Qureshi, a research director at the rights group, CAGE who was friends with Emwazi also seems certain that he is Jihadi John:
There was an extremely strong resemblance. This is making me feel fairly certain that this is the same person.
An unidentified friend also offered the following statement regarding him:
I have no doubt that Mohammed is Jihadi John. He was like a brother to me… I am sure it is him
So there you go – although that statement isn't exactly watertight, it seems like there's a fair bit of evidence suggesting that Emwazi is Jihadi John. Let's hope that now the world knows who he is we're one step closer to bringing him to justice, although the way stuff is going over there it seems like it might be a long time.
The Emwazi family have refused to make a statement.
Featured Image VIA