Band and musician riders are always the funniest things – sometimes you get really awesome (yet insanely expensive) ones like this Foo Fighters rider and other times you just get completely mental ones like these ones. Jack White's probably falls under the latter category.
Jack played a gig at the University Of Oklahoma recently but didn't reckon with the budding journalists there who were working on the student paper. Somehow they got access to his private rider information and published it in their paper, which later went viral with the details of it splashed all over the internet.
The most surprising item on the rider was that Jack demanded that there were no bananas anywhere in the building that he was playing in. He also required that some homemade guacamole from a specific recipe that he included with the rider be pre made and served to him around 5pm. You can see that recipe below if you're interested in it. Jack also needs freshly sliced, high-quality prosciutto and aged salami cut with a sharp knife and a New York strip steak, cooked medium. Pretty sweet deal when you've made it huh?
White also received an $80,000 flat fee and then 90% of the door money, which totalled a cool $147,000. Not bad for a day's work eh?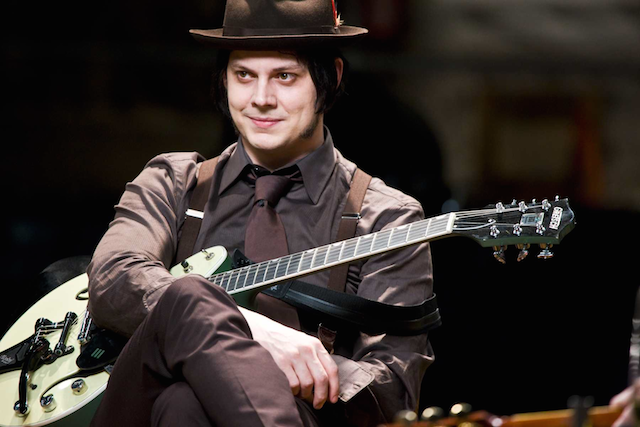 White was obviously pretty embarrassed that this information was made public and his management company quickly wrote up a statement distancing himself from these demands and the whole incident:
The incidents with the OU Daily student newspaper reporting the financial terms of the show, the private tour rider information, along with unsolicited photographers from their staff were unfortunate, unprofessional, and very unwelcoming.

Incidentally, the most important function of a rider is that it lays out optimal technical specifications to ensure the audience has the best experience possible. For that, Jack hires a team of very qualified touring professionals who write the rider and attempt to execute a professional and pleasant experience for all involved.

Part of that is making sure that the tour personnel of about 30 people plus the local venue staff are fed.

Contrary to what some believe, Jack doesn't write the rider nor make demands about his favorite snacks that must be in his dressing room.

We're not even sure he likes guacamole but we do know that the folks who work hard to put on the show do enjoy it.

But proving they're not total party-poopers, it continued: 'By the way, now that's it out there, we recommend you try Lalo's guacamole recipe. It's delicious.
So there you have it. If you take anything from reading this article it should probably be that guacamole recipe and not the fact that Jack White is hella rich and makes ridiculous demands on his rider. Or maybe take both of those facts.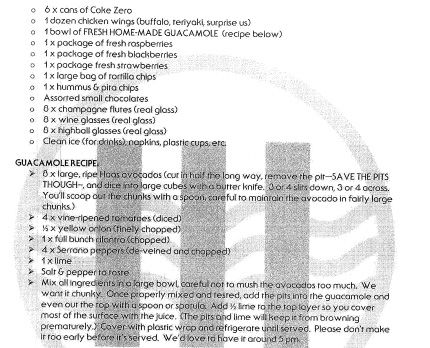 8 x large, ripe Haas avocados (cut in half the long way, remove the pit–SAVE THE PIT THOUGH–, and dice into large cubes with a butter knife. 3 or 4 slits down, 3 or 4 across. You'll scoop out the chunks with a spoon, careful to maintain the avocado in fairly large chunks.)

– 4 x vine-ripened tomatoes (diced)

– ½ x yellow onion (finely chopped)

– 1 x full bunch cilantro (chopped)

– 4 x Serrano peppers (de-veined and chopped)

– 1 x lime

– Salt & pepper to taste

– Mix all ingredients in a large bowl, careful not to mush the avocados too much. We want it chunky. Once properly mixed and tested, add the pits into the guacamole and even out the top with a spoon or spatula. Add ½ lime to the top later so you cover move of the surface with the juice (The pits and lime will keep it from browning prematurely.) Cover with plastic wrap and refrigerate until served. Please don't make it too early before it's served. We'd love to have it around 5 pm.