Fresh off their brand new line of grass-stained jeans going for $600 a pop, Gucci have now come out with another controversial line of clothing – a luxury tartan dress for men.
Featured Image VIA
Gucci unveiled the orange dress at a cost of £1,700 (!) in hopes that it will fight the 'toxic stereotypes that mould masculine gender identity'. The dress is 100% cotton and apparently inspired by the 90s grunge look: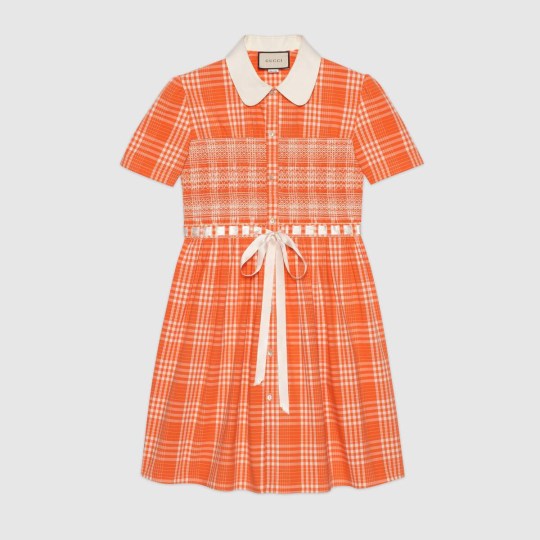 Look – you can even style the outfit with a pair of denim jeans and trainers!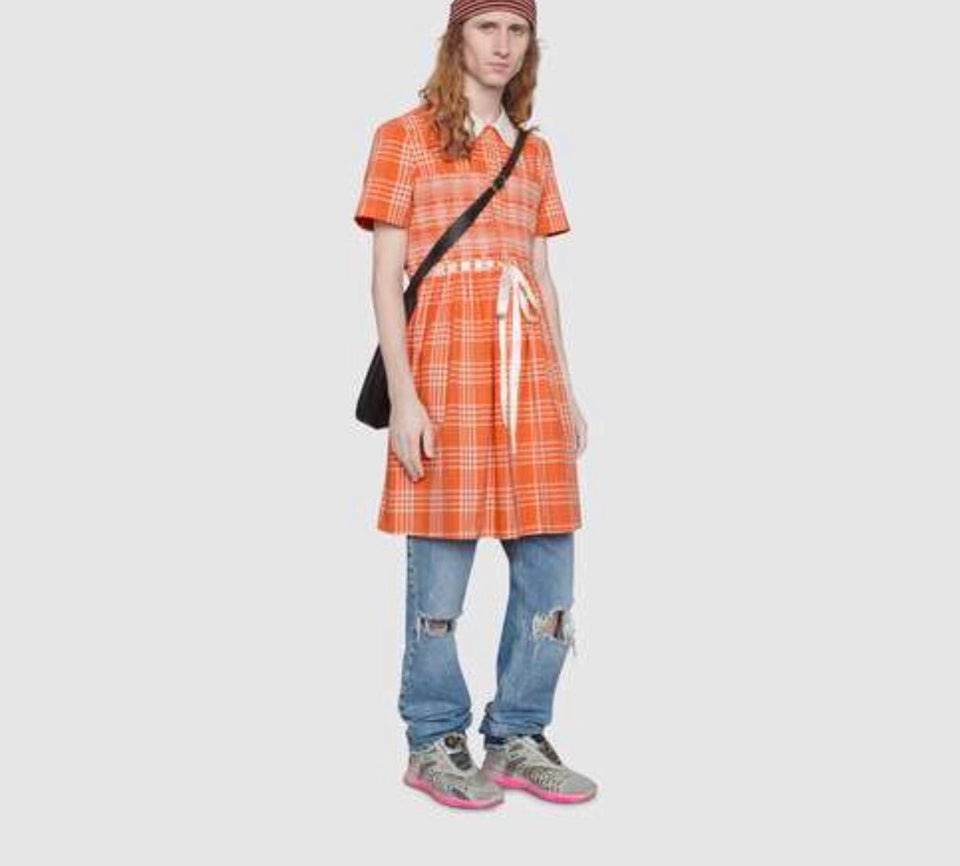 Am I crazy or do those shoes and jeans not go with the dress at all? They say it's inspired by the 90s grunge look but it looks more like a mix of grunge, country and preppy 90s and makes this poor geezer look like he got dressed in the dark.
Over on their website, Gucci says:
Inspired by grunge looks from the '90s and styled over ripped denim pants, this tartan smock in delicate colours reflects the idea of fluidity explored for the Fall Winter 2020 fashion show, disrupting the toxic stereotypes that mold masculine gender identity.

The contrast Peter Pan collar and smock embroidery on the front add a childhood inspired element, which ties to a recurrent theme of the collection.

Pieces with versatile ways to wear and style embrace each person who is part of the House's individual spirit.
Has making an unnecessary statement ever looked so shitty or cost so much? I'm not sure. I mean Gucci can act like they're trying to normalise men wearing dresses and disrupt stereotypes but I'm not sure they're going to achieve that by putting an £1,700 dress for sale. Hardly gonna appeal to the common man, is it?
If you are a bloke who wears dresses, I'd imagine you'd want a better looking dress than that for £1,700. I mean it looks like the sort of dress those two twins from The Shining would wear or something. I'm sure you can pick up something nicer for a lot cheaper from Top Shop. Or why not get the missus to pick something out for you from Asos?
Whatever your feelings are, I can guarantee that if there's a man out there thinking about branching into wearing dresses but was feeling self-conscious about it, this Gucci men's dress would NOT be the magic item that helps them past that point. Top marks for effort though.
For a look at ASOS's crop tops and boob tubes for men, click HERE. That's… more like it?