Following their underwhelming showdown last week, the boxing world expected that Mayweather/Pacquiao II would take place at some point so that they could go again when Pacquiao was feeling 100% healthy.
Featured Image VIA
Floyd Mayweather was happy to offer Pacquiao a rematch just a few days ago, but has just changed his mind after deciding that Pacquiao is a 'coward' and a 'loser'.
He told Showtime's Jim Gray:
Did I text [ESPN's] Stephen A. Smith and say I will fight him again? Yeah, but I change my mind

At this particular time, no, because he's a sore loser and he's a coward. … If you lost, accept the loss and say, "Mayweather, you were the better fighter."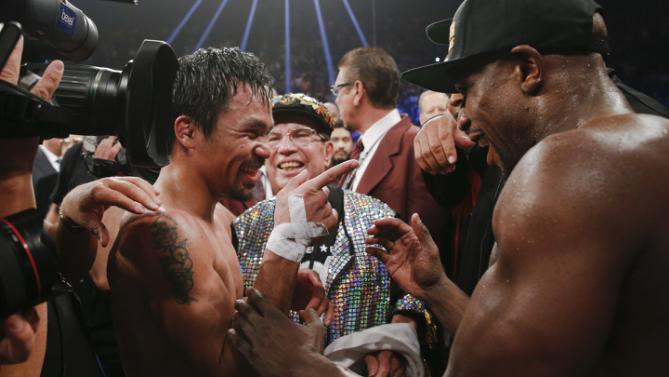 Image VIA
Pacquiao has since had successful surgery on his shoulder, which he'd injured while training for the big fight but only disclosed after he'd lost. Mayweather added:
Excuses, excuses, excuses. I'm not going to buy into the bullshit and I don't want the public to buy into the bullshit. He lost. He knows he lost. I lost a lot of respect for him after all of this.
Sounds like it's Amir Khan's time to step up – does he stand a chance against the best in the world though?