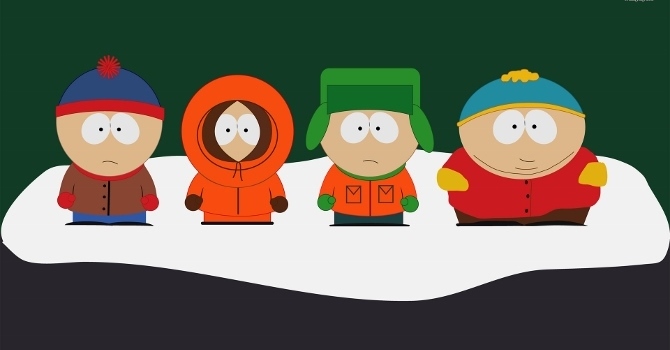 The first time I ever saw an episode of South Park was when I was about 15 or something and I was over a friend's house, stoned, scared and sleepy and it was summer and even though it was, like, 10 in the night it was humid as fuck and the green was sweating outta me. For some reason, I kept thinking that there was someone in the back garden and had the heebies and was a bit restless so my mate shut the curtains a bit and told me that he knew what would sort me out and he put South Park on. He was right. It did sort me out and put me at ease pretty quickly, but I never did find out if Jimmy Savile was out there in the back garden, wanking over us through the bushes.
☛ Everyone Hates Savile: Old Photos Of Jimmy Savile That Now Look Really Perverted
Everyone had been on about South Park for ages but I never got round to watching it because, to be honest, I thought it was just a load of hype again and everyone was making a fuss over nothing as per. I didn't watch telly much, either, as there was no TV in my mother's basement. But, I was wrong about South Park. The hype was justified and it had me laughing just as much as it had me drawn into how such crudely drawn cartoons could be so addictive and engaging. It was pretty much the most offensive thing I'd ever seen – apart from Gail Platt – and I loved it. I'm also deeply in love with Gail and her stretchy tits. The episode that I watched over my mate's house was Chef's Chocolate Salty Balls and it soothed how stoned I was into an amusing lull and before long, gravelly grunts were coming out of my mouth and I soon realised I was laughing.
☛ This Is Funny As Well: The UK's Funniest Prank
From then, I watched a lot of South Park and have probably watched every episode. Or so I thought. My fanboy image disintegrated before my eyes and I was left as a load of pathetic dust on the floor that people spat on and threw mouldy bread at. Because I didn't realise that there was a South Park episode out there that was almost antique-old and is the stuff of South Park fans' wet dreams. It's the very first episode that, I'm guessing, not a lotta people know about because it seems pretty much like one that was left on the cutting-room floor. It's a collector's item and should be stored in your bookmarks forever.
☛ Stick This In Your Bookmarks: Sick Chirpse Guide To Buying Awesome Marijuana
Oh, and Cartman is called Kenny. Check it:
[yframe url='http://www.youtube.com/watch?v=ELxeSadruMI']