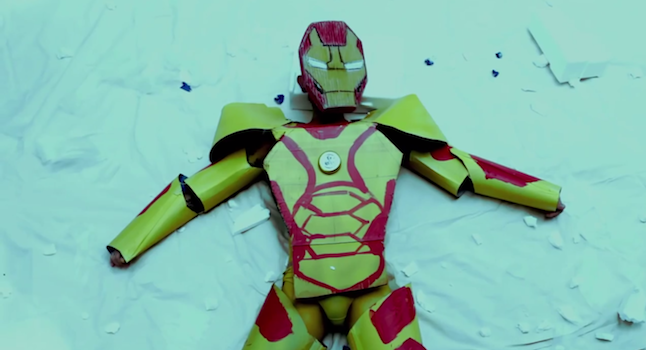 Here at Sick Chirpse, we have a soft spot for people trying to achieve great things with limited resources.  These are the people who won't get bogged down in annoying details like time and money. They dream BIG, and that's what counts. A bunch of dudes from Thailand are one such bunch of dreamers, and they have proved it by making their very own-fan made trailer for Iron Man 3, which recreates the original shot-for-shot and appears to have a production budget of about £3.75.
[yframe url='http://www.youtube.com/watch?v=Sp6IxvJzZ-k']
There's so much to love about this that I almost don't know where to start, whether it's Gwyneth Paltrow's, erm, replacement or the bit where they try and replicate a bunch of people getting sucked out of Air Force One and cascading in free fall by just having various Thai folk lie on their back on the ground and wiggle like up-ended sea turtles. Then there's the cardboard Iron Man armour assembling itself. Why didn't they show us how to do that sort of thing on Blue Peter? As a means of comparison, here's the original trailer;
[yframe url='http://www.youtube.com/watch?v=Ke1Y3P9D0Bc']
Thailand may be a country notorious for its counterfeit-heavy financial infrastructure, but we salute these guys. They may not have had millions at their disposal but they did their best with what they had, which, admittedly, is very little indeed. Nevertheless, if they ever felt like directing The Sick Chirpse Story (straight to DVD, obvs) then we'll happily sign up.
 ☛ Nerdery On A Bigger Budget: Some Guys Want To Build A Real-Life Death Star
 ☛ Speaking Of Iron Man 3: Here's What We Thought Of The Film
 ☛ More Superhero Shenanigans: We're Excited About The New Wolverine Movie