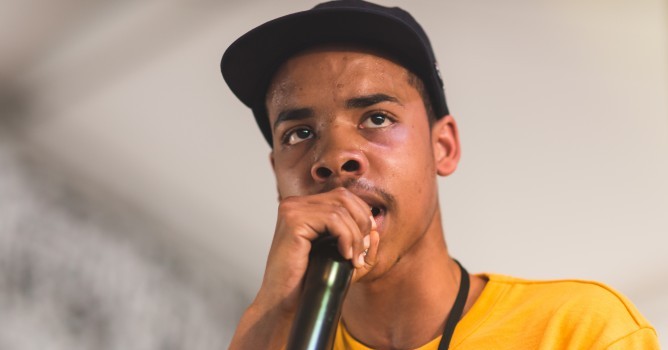 A month ahead of the release of his debut album proper, Doris, Earl Sweatshirt drops a stopgap mixtape to keep fans sweet; a fairly late stepping stone between 2010's debut mixtape Earl and his official debut Doris. Not only as a keep sweet and a tease for fans, but it acts as a good introduction for the uninitiated too. The mixtape's called Earl 2 : The Road To Doris and perhaps acts best as a catch up, or refresher, course for newbies and oldies alike.
I teased at Doris' impending release back when Earl dropped Whoa featuring Tyler, the Creator, but there have been a couple tracks leading the way to Doris, like Chum, Guild and Hive, that have paved the way for what's likely to be either a promising or brilliant debut album. This mixtape gathers up some of the highlights of Earl's career so far to get you excited, and for newcomers informed, which include tracks from that first Earl mixtape, his spots on Odd Future mixtapes — before he got shipped off to Samoa by his mom — his spots on Tyler's output, along with other members of Odd Future and plenty of spots with outsiders too.
For those unconvinced by Odd Future (which is fair enough) and not prepared to believe Earl Sweatshirt's place as its most talented member and most likely to succeed (aside from Frank Ocean, obviously, who went big league, and Tyler if he continues to get his act together), there are plenty of guest spots here to entice you into this mixtape at least; RZA, Action Bronson, Vince Staples, Casey Veggies, Tyler, the Creator, Riff Raff, Pharrell, Hodgy Beats, SpaceGhostPurp, Domo Genesis and MellowHype. So quit bitching and dip your toes in, have a swim, you might just like it.
If you wanna download it, or stream it, go HERE, where it's been uploaded courtesy of DJ Diggz who appears to have put this together, and irritatingly plastered his cunt name a few places throughout, but whatever it's free. Otherwise, here's a taster for Doris in the shape of Earl's latest track, Hive featuring Vince Staples and Casey Veggies…
More Rap :
Underrated Rappers You Need To Know About: E-40
Video Of Action Bronson Body Slamming A Fan On Stage
New Eminem Interview: Opens Up About Drug Abuse