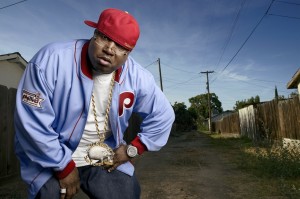 The originator of "The Slap", Function Music's pusherman, Earl Stevens, better known as E-40, should really just be better known altogether. He has released 17 albums in the past 20 years, the majority of which are solid listens with varying genres and interesting features. E-40 has his own flow, he's completely diverse, and like every rap fan wants he hasn't given in to the mainstream, and of course, he has created the wonderfully quirky "Biaatch" ad-lib.. So what is he doing wrong? I can imagine he must be thinking the same, so take an hour out and give the guy a chance, he's fucking gold. E-40 is an OG, has bars for days and can even bring some comedy into his rap. Before you read on quickly listen to "What's My Name" to get a feel for what 40 is about.
[yframe url='http://www.youtube.com/watch?v=Gzr0nNvFhpY']
5 Facts You Need To Know About E-40

1. He Spared Biggie. Basically Biggie said some shit about E-40, E set him up and it resulted in Biggie being sat in a car at gunpoint. There was then a phone call between Biggie and E and the result was that E-40 told his shooters to fall back, and provided protection for Biggie whilst he was in his city. Respectful guy.
2. His son, Droop-E, is a great producer and a fairly dope rapper. He is a member of the production the "The pharmaceuticals" and has rapped on some of E's beats, namely "Catch a Fade" a song which also features none other than the current man of the moment Kendrick Lamar.
3. E-40 made a cameo in Drake's video "The Motto" watch it and look out he's hard to miss.
4. He features his sister on a great deal of songs, Suga-T.
5. E-40 started out as a rapper in a group named "The Click".
Enough about his life though, let's get into the music…
Top 5 E-40 Songs
So hard to say, E-40 has a massive library of songs ranging from Bayside bangers to Westcoast classics so in this top 5 I'm gonna try and include songs that prove his diversity. They are in no particular order.
1.Function (featuring Iamsu, Y.G., Problem)  – check the remix of this too.
[yframe url='http://www.youtube.com/watch?v=tllWt1tibbQ']
2. Sideways (featuring B-Legit & Mac Shawn)
[yframe url='http://www.youtube.com/watch?v=KWCFMXAN0JA']
3. Tell Me When To Go (featuring Keak Da Sneak)
[yframe url='http://www.youtube.com/watch?v=2GZbaXdK8Js']
4. Million Dollar Spot (featuring 2pac & B-Legit)
[yframe url='http://www.youtube.com/watch?v=2yXLvCVs8-k']
5. Weed Man (featuring Stresmatic)
[yframe url='http://www.youtube.com/watch?v=PMnEvKCtHBw']
Sneaky number 6 too, you have to listen to "They Point" with Juicy J & 2 Chainz, there's some funny bars in there. E-40 is major. There is simply no denying it. I don't understand why on he hasn't received more recognition, aside from his solo shit, he and Too $hort have 2 decent collaborative albums, he has songs with Pac, Wiz Khalifa, The Game, Snoop any so many more, this proves his worth as when he is up against them on a track he isn't afraid to stick to his different style and kill all types of beats. Some may say his more recent beats drown him out a bit, and his flow is sometimes too much. I can agree with that to a degree, but a lot of his lyrics would just fly over people's heads and lets face it, a few bad songs are allowed when you have a run like his. All of those people thinking he needs features for a track, with artists like French Montana up at the top right now that point is redundant. You don't have to love him, but you have to respect his movement.