Ever been on the bus home and just wished that you could get a pizza delivered straight to it? I can't say it's been one of my burning concerns, but it's definitely happened a couple of times when I've been starving my ass off and I've got another half an hour before my bus stop and then a 15 minute walk home without any takeaways afterwards.
Images VIA 
Our good friends over at Domino's have realised that this is an issue and that there's a gap in the market for though and following the success of that guy ordering a pizza to the train station, they've decided to trial the idea of delivering a pizza to specific bus stops. The only problem is that this trial is taking place in the ass end of the UK up in Blackpool.
If you find yourself on the Catch 22 bus route (not sure why it's called that) from Mereside to Cleveley up in the city (I'm praying for you that you aren't), then you'll be able to order a pizza to the bus stop of your choice from Domino's. Some guy called Aaron Ryder (pictured below) was the first person to use the service: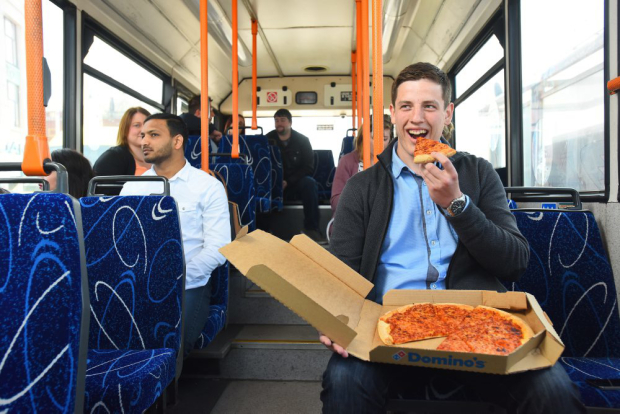 I was on my way to a lunchtime shift at work, when the bus driver announced the new delivery service over the tannoy.

I love a Mighty Meaty pizza so was straight on the phone to see if I could get it before my journey ended – I did and it was delicious!
Yep, it sure does look like you're having a good time there Aaron.
I can honestly see this being a massive winner, but I can also see it being a massive problem as the main market where it could be successful is on night buses. Whilst it sounds good in theory,  you can already imagine the amount of trouble it's going to cause with drunk guys fighting over pizza and drunk guys not having the right money to pay for it leading to massive delays and pissing everyone off being two off the top of my head.
I mean are that many people going to order a pizza to a bus stop in the middle of the day, other than Aaron? It's clearly a service you're probably only going to use if you're wasted or in an absolute emergency. Can't see it rolling out nationwide unfortunately but never say never.
What about the Domino's Pizza delivery robot though? Can see that catching on.