I remember there being a couple of stories in the past about Danny Dyer getting really drunk whilst he was on 'Eastenders', but I clearly didn't know the full extent of what he was engaging in until I just read this interview he recently took part in on Jaime Winstone's podcast.
Featured Image VIA
Dyer explains that the breakdown of his relationship with Joanne Mas – the mother of his three children – back in 2017 led him on a path of self destruction that could only be halted by exiting the classic BBC soap opera for a while. Here's what he had to say: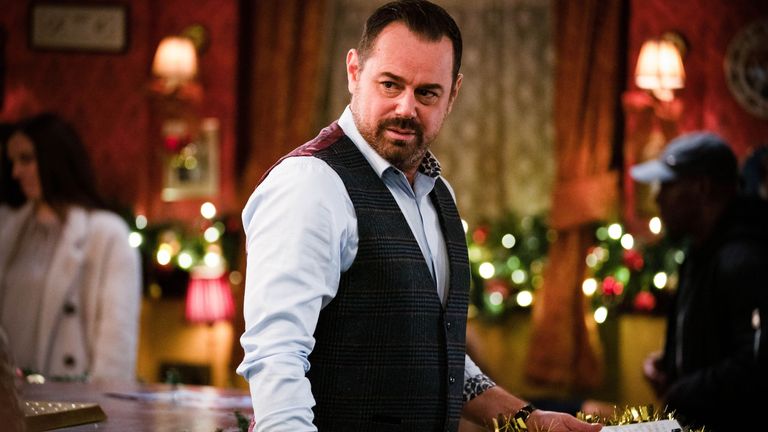 I turned around to the bosses of EastEnders and I said, 'Listen, I've gotta go somewhere. I'm going to die.

They was like, 'Oh, OK. Uh, right'. And so I sorted it myself and I paid for it myself.

Fame never suited me. I was always f***ing gonna be going down the wrong path. So I lost the plot for many years and I was a f***ing lunatic.

I became a sort of a cartoon character. I created it myself, don't get me wrong […] I got wrapped up in that and I sort of lost who I was, really.

I was doing s**t loads of f***ing drugs. I was searching for something. There was a hole in me and I couldn't work out what the f**k it was.

I knew I had to f***ing sort myself out because I'd been – sorry about me language – I'd been a c*** up to this point in the sense of what I was doing, what I was doing away from her, some of the situations I would find myself in.

I look back and go, 'f***ing hell man, I was weak'.

I was wounded. I was vulnerable because I was, but of course I couldn't play vulnerable because I'm playing Danny Dyer, whatever that is.

Yeah. So I'm a bad boy, f***ing, you know, whatever. And I quite like playing it, but you know, the amount of f***ing Diazepam [an anti-anxiety drug] I was on at the time, I was just munching.
Geez. Does not sound like a good time for the guy at all does it, but I suppose when you create that 'Danny Dyer' persona for yourself then it's hard not to play up to it and go all in?
It sounds as if he's figured himself out now though and he'll soon be presenting a Netflix quiz show as well as a travel programme with his daughter Dani. Maybe that's something to look forward to in the future? Unsure.
For more of the same, check out five times that Danny Dyer was an absolute diamond geezer. Legend.