Danny Dyer has been a favourite here at Sick Chirpse for some time – and for obvious reasons – but it seems every time you hear a story about him he just gets better and better.
And there are probably going to be a few with him in the upcoming weeks as he's releasing a biography next week and that's bound to have some of the dumbest stories in history in it, including this one. It turns out that the producers at Eastenders have to put the antiseptic TCP in the pipes at the Queen Vic to stop Danny from boozing on set. All together now: 'you fucking what?'
It isn't as bad as it sounds though – or at least that's what Danny's saying – as he reckons he only has a couple of half at the end of the day and the producers aren't even down with him taking that liberty: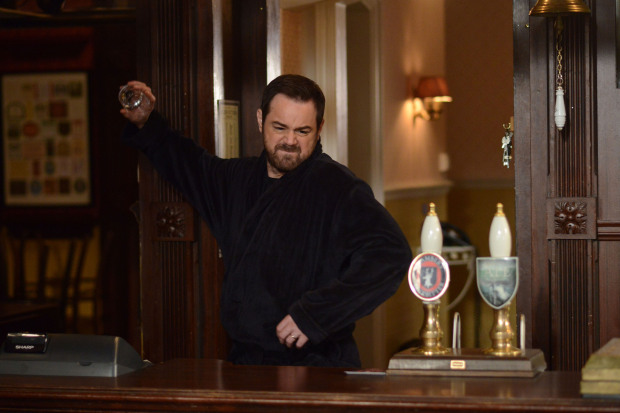 Images VIA
I sometimes have a half at the end of the day in The Queen Vic, though they started putting TCP in the pumps to stop me drinking it.

There's still time for a few laughs on set though.

It doesn't really matter anyway – I'm just about to move into my dream house and it's got a little annex which I'm turning into The Queen Vic.

The prop boys are going to come in and build a mini version of it for me. I've already nicked an old sign they had. EastEnders has played a massive part in my life and it can be a little bit of a man cave for me.
Well, there you have it ladies and gentlemen – exactly why Danny Dyer is such a complete and uttter badass. Eastenders producers stop you boozing on the set, no worries I'll just build the Queen Vic in my house. He probably gets loaded before he gets onto the set now – pull the other one was he just having a cheeky half at the end of the day.
If you want to know more about Danny Dyer then check out this interview we did the day we met him.