Remember a couple of weeks ago when Justin Bieber challenged Tom Cruise to a fight via Twitter and everyone was like 'oh that's really dumb, that'll never happen' before Bieber himself pussied out of the fight?
Featured Image VIA
Well, it looks like the fight might actually be happening as apparently Dana White is very keen to see the pair step into the octagon – he loves money doesn't he? – and has apparently been recently regarding the subject taking calls with both Bieber's manager Scooter Braun and Ari Emanuel, the co-CEO of the William Morris Endeavor Agency, the company that owns UFC. It's being said that Emanuel feels like he needs to make the fight happen and will do everything in his power to get it over the line. Hmmmmm.
White himself has also been quoted as saying that he's interested in promoting the fight. Speaking to TMZ he said the following: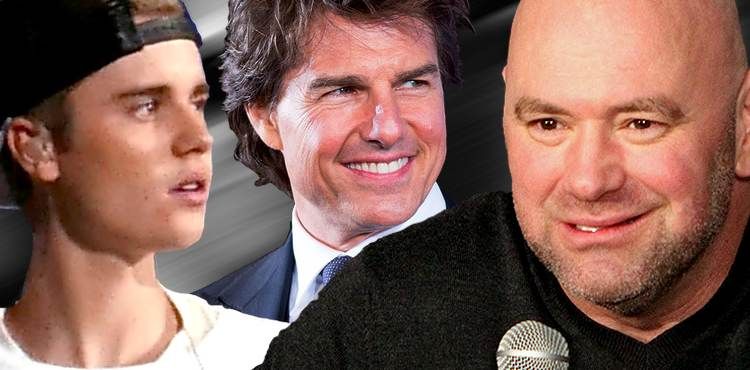 I didn't know if it was real or not. I still don't know if it's real. Everybody is talking about it, but Justin hasn't contacted me.

Listen, first of all, maybe Justin Bieber wants to fight Tom Cruise for whatever reason. I highly doubt Tom Cruise wants to fight Justin Bieber. I'm 50, I think Tom Cruise is 56.

I don't think anyone who's 56 is looking to fight anybody.

But I'll tell you this, if Justin Bieber wants to fight Tom Cruise, and Tom Cruise wants to fight Justin Bieber, we can talk.

Let me tell you what, I'd be an idiot not to make this fight.

That would be the easiest fight to ever promote in the history of my career.
Well yeah, people would definitely want to see it if it happened. And to be honest, the way things are going right now in terms of just the general level of dumbness in the world, it wouldn't surprise me if it did end up happening. Stay tuned.
Of course, Tom Cruise is probably the only person in this sorry situation to come out of with any credibility as he's simply ignored the whole thing and has just stayed busy doing whatever it is that Tom Cruise does with his spare time. Weird Scientology stuff probably. That can't help him in the Octagon though I don't think.
For more of the same, check him out not knowing how to eat a burrito properly. Loser.