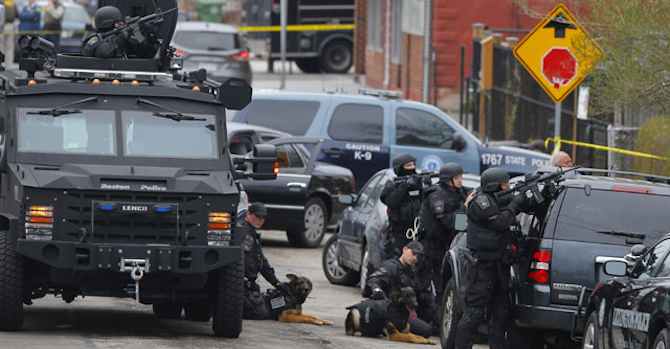 Ok, so unless you've totally avoided the news today then you've probably noticed that there is a f*cking manhunt going on over in Watertown (an area of Boston) for a suspect in the Boston Marathon bombings and the whole thing looks like if there was a Homeland/24 movie and it had a budget of about a billion dollars. Shit is going crazy over there.
The whole place is on lockdown, the whole town is dead and SWAT teams are searching for this dude house by house. The suspect has finally been identified as Dzhokhar Tsarnaev a 19 year old who is currently studying over in Boston but is originally from Chechnya. Surprise surprise people are already claiming if you go on his vkontakte page (Russian equivalent of Facebook) then there is some evidence that he's a Muslim. That doesn't mean anything but you know, haters are gonna hate.
The BBC helpfully made some infographics and a timeline of the events of last night that I'm just going to copy and paste and stick in here because it's Friday night and I kinda wanna get loaded but wanna write some stuff about it too and this will just give you an overview. I wanted to wait as long as possible before we did anything on this on Sick Chirpse in case the guy got caught or there were any more big developments throughout the day but there haven't been really, except for the fact that earlier today THE WRONG SUSPECTS were named all over the internet for a couple of hours.
We kind of predicted this yesterday when we claimed that the internet had solved the Boston Marathon bombings and that's exactly what happened today. Some Redditor had already claimed that Sunil Tripathi – a Muslim student who went missing on March 16th this year – might have had something to do with the bombings. When his name and Mike Mulugeta's were read out over a police scanner as 'possible suspects' (you can listen to Boston police scanners on the internet for some reason) the internet went crazy and this dude Sunil Tripathi was the number one trend for a bit on Twitter and people were congratulating the internet collective for being such awesome detectives. Boy, did they look stupid later on when it was revealed that the suspects were the Tsarnaev brothers. To be honest that kinda stuff is pretty scary – that because of the internet and social media that someone who has nothing to do with something can be public enemy number one.
☛ More Of This Crap: Boston Marathon Conspiracies
Anyway, onto these infographics and timelines. They pretty much give you pretty all the information you need about the incidents last night which is pretty sick and all I really wanted to do with this article is inform people of what was going on. I mean I could type it out in my own inimitable style sure, but at the end of the day the facts are the same and that's that.

'1: 22:00 local time (03:00 BST, 19 April) A robbery is reported at 7-Eleven convenience store in Cambridge, near Boston, where marathon bombing suspect Dzhokhar Tsarnaev, 19, is caught on security cameras.
2: 22:30 A police officer is found with fatal gunshot wounds close to the nearby Massachusetts Institute of Technology campus.
3: Suspects and brothers Dzhokhar and Tamerlan Tsarnaev hijack a black Mercedes SUV at gunpoint. Boston police say the driver was released unharmed.
4: Police chase the car as they head to Watertown, west of Cambridge. One suspect is fatally injured and the other flees after an exchange of gunfire.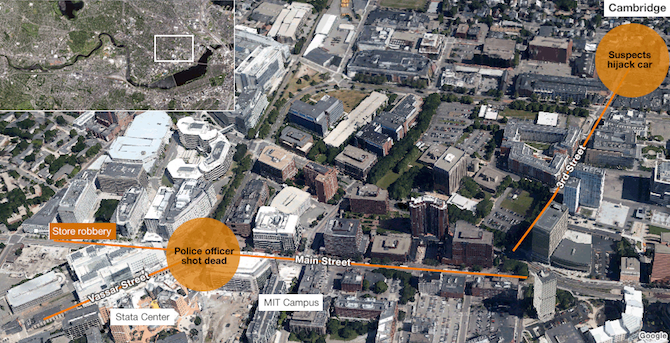 22:00: A robbery takes place at a 7-Eleven convenience store where security cameras record one of the men – Dzhokhar Tsarnaev – identified by the FBI as a suspect in the Boston marathon bombings.
A short time later, a campus police officer responding to reports of a disturbance near the MIT campus is found shot in his car at about 22:30 local time. He later dies of his injuries.
The suspects, Dzhokhar and Tamerlan Tsarnaev, hijack a car at gunpoint in the 3rd Street area, holding the driver for half an hour until they release him at a petrol station.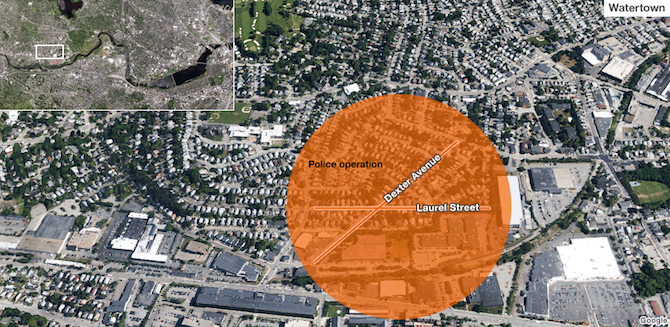 ☛ Miss The Blast? Very Close Up And Intense Video Of The Boston Marathon Bombings 
The suspects drive on towards the Watertown area, west of Cambridge, in the hijacked car, reportedly throwing explosives at police before the car crashes. They then exchange gunfire with police in the area of Dexter and Laurel Streets.
Tamerlan Tsarnaev is injured and arrested, but dies of his injuries at Beth Israel Deaconess Medical Center at about 01:35 local time. Staff say his injuries include gunshot wounds and trauma that may have been caused by an explosion.
The surviving suspect flees, prompting a massive manhunt and lockdown as police urge people in the Watertown and surrounding areas to stay in their homes.'
Ok, it's back to me timw_brap talking now, sorry about that lame BBC voice in there for a minute. There are a couple of videos of the shootout from last night but they're both fairly crappy, I'll post them below though because we wanna give you the full story, you know?
☛ Miss The Photos: Photos The Media Won't Show You Of The Boston Marathon Bombings 
This all happened last night and since then the whole of Watertown has been on lockdown while police have been searching every possible nook and cranny for this asshole. Obviously there's no evidence right now he committed the bombings but he pretty much definitely killed the cop last night and probably had at least something to do with the bombing, otherwise why the hell would he be running? So yeah I don't feel bad calling him an asshole. OK sure maybe he got framed like in every episode of 24 ever, but I don't know if that's true or something that only happens on TV shows.
I'm kinda bummed out that they haven't managed to find this dude yet and I'm about to head out, so if anything happens make sure you tweet @sickchirpse to let us know. Safe.
☛ Finally: Who Was On The Roof At The Boston Marathon Bombings?