Boris Johnson is battling away trying to deliver Brexit but it seems like he might need to turn his attention to saving his own family after it emerged that his brother had resigned as an MP because of him and his father is attending the Extinction Rebellion protests that he condemned the other day.
Featured Image VIA
Speaking exclusively to Metro.co.uk, Stanley Johnson said the following about his choice to protest against climate change: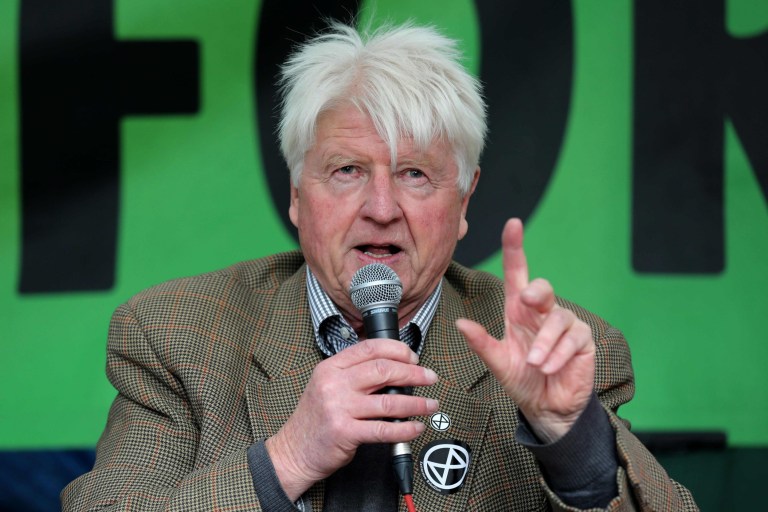 As far as I'm concerned, this tactic seems to be absolutely lovely. Getting together on a sunny day, you know, mid-week.

Breaking up in time for lunch. What could be more important?

Quite frankly, I love [Boris' comments]. I feel absolutely thrilled to be called an uncooperative crusty. It seems to be absolutely right.

We've got AC, DC and now we've got UC.

That these movements have to do is press the government so that collectively we increase our efforts, we reach the target earlier and we put into place really practical measures.

We need to lean very heavily indeed now on the financial institutions of this country, on the banks, on the investment houses.

They all should be looking very carefully at projects they are supporting.

There should be a grid where they analyse what they're doing and they say to themselves:

Are these projects compatible with the fight?
I mean I'm not sure if he's really getting the point by saying these protests are cool because they're happening when it's sunny and they're breaking up before lunch (are they breaking up before lunch? Aren't the protests 24/7?) but even so it's funny that he's majorly undermining his dumbass son by showing up and getting behind them. You gotta rate him for that, even if he did birth and raise the dickhead who's running the country right now. So it goes.
For more of the same, check out this guy saying he put his dick in Boris Johnson's pint. Lol gotcha.