It seems like only yesterday that reports were surfacing that Avril Lavigne and Chad Kroeger from Nickelback were getting married after a whirlwind romance which caused Bizzy D from Sum 41 (Avril Lavigne's ex husband) to get really fat and then almost die, whilst Avril released one of the weirdest songs in history.
I'm sure that everyone was thoroughly disgusted by their relationship – mainly for the nauseating pictures that they regularly posed for like the ones on this page – and will be throughly relieved that it looks like it's over according to media reports yesterday.
Apparently even though he gave her a gigantic ring for their one year wedding anniversary, Chad has been driving around Los Angeles telling people that the two of them are divorcing. Straight from the horse's mouth there huh? It must be true.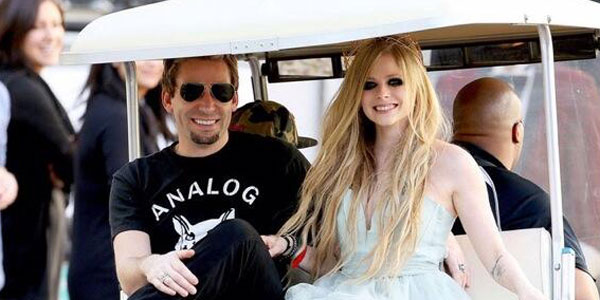 If that wasn't enough to confirm that their marriage was on the rocks, there's also a rumour going around that Avril deleted a tweet that said 'I still can't believe my 1 year anniversary gift. 17 carat emerald cut. Wow. I love my hubby' which clearly means that she no longer loves her husband and they're heading for divorce.
This was all shopped from US weekly which probably means absolutely nothing (although there's usually some basis of truth in it, although they make the details of the stories up) but that doesn't stop them making up some evidence, when a close personal friend of Avril's stated: 'Chad is just a complete jerk in the way he talks to her, and the way he talks to people in general.'
Crazy – (I hate to do this but I really have to drop it in) why'd you have to go and make things so complicated Chad? But let's be honest – all the details of this story are almost as believable as this list of people that Lindsay Lohan has supposedly slept with. There's probably the seeds of truth in both of them though sure.