I was shocked to wake up this morning with a whatsapp from my boy J.Henry telling me that Avril Lavigne was engaged to Nickelback singer/guitarist Chad Kroeger. Like I said, I was completely shocked and pretty much couldn't believe it. I find Avril Lavigne strangely hot (especially in the video to Girlfriend where there's like three different versions of her vying for the same guy) and I find Chad Kroeger one of the most repulsive dudes ever. Admittedly this is mainly because of his music and demeanour, I guess he's kind of handsome but he strikes me as the kind of guy who might wear a cowboy hat and take you hunting for bears on a first date. In Canada maybe that's a good idea for a first date?
In any case, the circumstances of the relationship seem even more ridiculous than the actual fact that it is even happening. Apparently Avril and Chad were introduced in February when he was roped in to co-write a song on Avril's new album. It's kind of surprising that Avril is even still making music and you might think that it's a bit weird to get Chad Kroeger in to help her do it but in fairness he's probably one of the most successful Canadian artists ever, despite playing in a band that seems to be as universally hated as Nickelback. Where do Nickelback fans come from, huh? And how have they made the band successful? I remember when 'How You Remind Me' first came out my dad really liked it, so maybe it's just old men who don't go out of their houses too often that are into that shit, which would make sense because it's pretty depressing music.
Anyway, a whirlwind six month courtship followed as Chad Kroeger relived all the times he had wanked over the Skater Boi video on the Nickelback tour bus during his mid 20's and Avril Lavigne realised she was more into ageing 'rockstars' now rather than crashing the maill with her friends on skateboards and little Skater Boi's like her former husband Bizzy D from Sum 41. It's quite a jump to go from Bizzy D – who looks like he only started shaving yesterday and still gets pimples – to Chad Kroeger – who looks like he might as well have a moon crater on his craggy features – but I guess that's the sound that Avril needs for her new record, which will no doubt be dubbed 'mature.' That, and it seems like neither Bizzy D or Avril have careers anymore whereas Chad (somehow) goes from strength to strength which she is probably hoping will rub off on her, or at least keep her in the public eye slightly longer. I give the marriage two years maximum despite the fact that a source has been quoted as saying 'they make each other so happy.' Yeahright. Here's a couple of pictures of the happy couple out shopping and drinking some beers at a restaurant. Gross.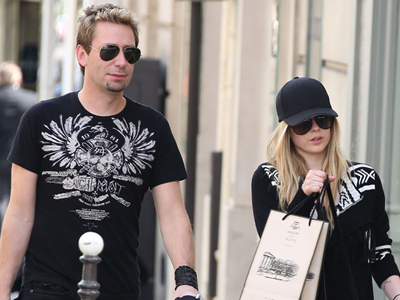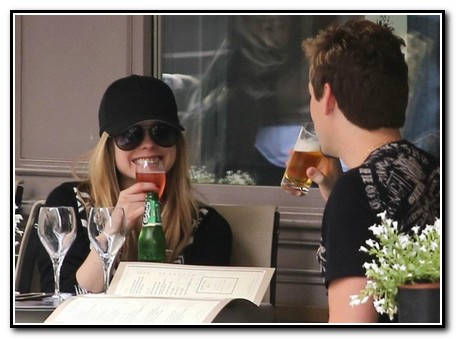 Anyway here's a couple of my favourite Avril Lavigne and Nickelback videos to celebrate this momentous day. One of the Nickelback songs isn't even actually a hit but for some reason I've heard it and it's actually a hard rock banger. No joke, check it out below. Also if you're depressed about the news about Avril Lavigne and Chad Kroeger, maybe check out this post we did a while back of people throwing stuff at Nickelback. And if you're having trouble with the compeititon on the Sick Chirpse twitter today, maybe take a look at the pictures in this article a little more carefully.