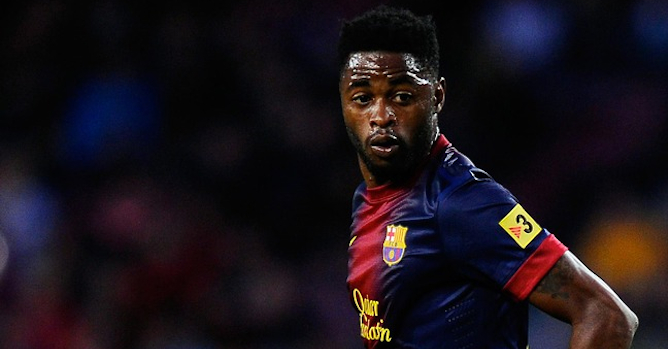 Remember Alex Song? Had a good season at Arsenal last year and got himself a transfer to Barcelona where he's barely played and been a peripheral character all season? Yeah that's the one, I wouldn't blame you if you didn't remember him though as you barely ever see him on the pitch anymore.
But yeah, Barcelona were celebrating another league title win last night and there was a presentation of the trophy and everything. Obviously the trophy was handed over to the captain Carlos Puyol to begin with but he then ran over to his teammates to pick someone to help him lift it. For some reason Alex Song thinks that Puyol has picked him – I don't know why he would think it was him, it's not like he's been the main man for them this season or anything and nothing else noteworthy has happened to him – and he starts rubbing his hands with glee as he anticipates raising the biggest trophy of his career so far.
Unfortunately for Alex Song though, Puyol wasn't picking him – I think everyone in the world had probably realised that except Alex Song – and was instead picking Eric Abidal to raise the trophy with him. This makes a lot more sense as Abidal had had a liver transplant earlier in the season, so it would be a 'nice touch' to have him raise the trophy with Puyol. The look on Alex Song's face when Puyol pushes him out of the way is priceless. I just love how his face turns from ecstasy to despair within about half a second. It's great.
Check out the video below:
☛ More Football: 
The Karim Benzema Christmas Song  
The Premier Leagues Biggest Dickheads Of 2011/12 
Sir Alex Ferguson Does Gangnam Style 
[yframe url='http://www.youtube.com/watch?v=HNKK4WLJqWY']