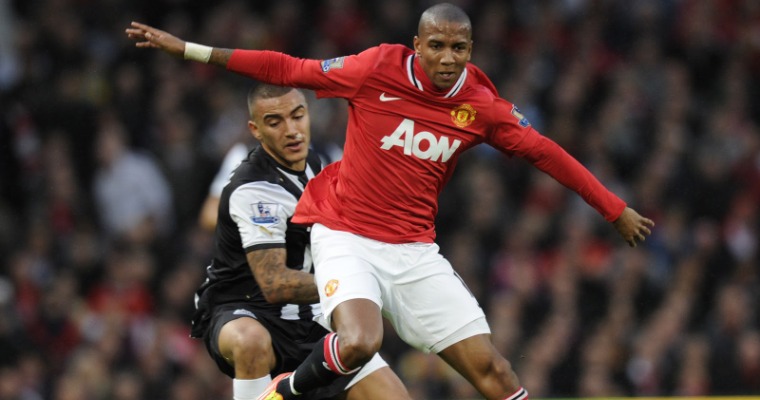 At the culmination of what has been possibly the most exciting Premier League season to date I decided to take stock of what has happened in the last 9 months. Robin Van Persie was named player of the year after scoring 30 league goals. Impressive. Kyle Walker was named Young Player of the year after some barnstorming performances for Tottenham (which mysteriously vanished after the second North London derby). Decent. The blue side of Manchester dominated (and rightly so) the team of the season and finished off with their first Premier League title. Sigh.
However, there have also been some sour notes as well, and because I don't think they get enough recognition for the arsehole things they do, we're going to look at who I think were the Premier League's biggest dickheads this season.
(Note: surprisingly no Arsenal players appear)
Tomasz Kuszczak
Any footballer who, while being employed by one of the biggest clubs in the world and so presumably on a hefty wage packet, comes out and says they're being treated like a slave because they aren't playing enough or not getting a transfer away from the club, is a douche in my book. This guy needs a reality check.
John Terry
Believe me, I'm as shocked as you are that John Terry managed to find his way into this list considering the stand-up human being that he is. So week in, week out he'll do something else that makes you realise how big of a knob he is (he managed to pick up a straight red card in a Champions League semi-final for unprovoked violent conduct then unashamedly stole his team-mates' thunder upon winning the cup) but the man is also due in court for allegedly racially abusing Anton Ferdinand. This guy is a low-life in every sense of the word.
Titus Bramble
So aside from him being one of the worst centre-backs in the history of the Premier League, big Titus was arrested on suspicion of rape and possession of a class-A drug in September 2011. This isn't even the first time he's been arrested for sexual assault either, a similar incident occurred in September 2010 too, an incident which led to his brother, Tesfaye, being jailed for four and a half years. Those post-Summer back to work blues make him fall right off the deep-end don't they?
Jermaine Pennant
Pennant only recently narrowly avoided going to prison for driving offences (driving while over twice the legal limit, driving while disqualified and without insurance). Instead he was given a driving ban of 3 years, an 8 week suspended jail term, a whopping £80 fine and 12 month supervision order.  It was also driving offences that landed him a stint in the nick in 2005. Seems he hasn't learned from his incarceration though and, much like most other top level footballers, thinks he can do whatever he wants without fear of repercussion.
Paul Pogba
If you want an indication of how far football has descended into madness then look no further than Paul Pogba. A man/boy who believes hype and hype alone is worth a massive pay rise. Only in football would this happen. A medical student wouldn't demand a doctor's salary because he might be a top surgeon one day. The young man could have already committed career suicide. I hope not and he eventually does decide to stick it out with United but I don't see it happening. You can argue that it's his agent throwing a spanner in the works but it's his choice when all's said and done.
What an interminable bore. I begrudgingly admit I was a fan of Barton after he was released from prison. He genuinely looked like he'd turned over a new leaf. I was wrong. He's a cock. From his Twitter ramblings to his attempts to incite mass brawls after being sent off. Joey Barton's one man crusade against the world started again following the final day of the season and his red card against City. What most annoys me is if he sees a pundit or manager has criticised him he thinks by mentioning the 'dirt' he has on them and how he'd reveal it 'at the drop of a hat,' his bad press will disappear. Just because somebody else may have done something bad doesn't mean you stop being the biggest knobhead in football.
The guy just seems to have so much difficulty staying on his feet. It goes against the myth that English players are good honest players who play the game in the right spirit. It's a shame because he is a quality player but he risks being recognised for the wrong reasons. On top of this his actions have brought about terrible consequences. Up and down the country there has been a wave of shit, diving team/Olympics 2012/Tom Daley diving partner jokes. Thanks Ashley, thanks a lot!
At the beginning of the season he wanted out. Then part of the way into the season he decided to just not play. Then he had a 5 month holiday. Then he came back and walked straight back into the side. Then he won a Premier League title. Then he decided he wants to win more trophies at City. Then in a sheer act of dick-ery he held up a 'Fergie RIP' banner on their trophy parade. Then he refused to apologise. Man City apologised though. It'd be interesting to know which of the two, City fans think is wrong; the player for not apologising or the club for apologising. Anyway, I give it until next week before he wants to leave again.
Luis Suarez
The Uruguay international has had, we'll say, a colourful first full season in the Premier League. He's been banned for making racist remarks to Patrice Evra in their league game at Anfield. Then he refused to shake Evra's hand when the two teams met at Old Trafford. In a separate league match against Fulham, he gave the Fulham fans the finger. Then he's also brought that South American gamesmanship with him i.e. diving, pretending to be injured, imaginary card-waving, over-theatrical appeals to the referee for throw-ins, corners, free kicks etc. It's a massive shame considering how good of a player he is (his hat-trick at Norwich testament to that) Most people won't see him for his ability, though, but for how big of a penis he is.
Nicklas Bendtner
So everybody is still waiting to see the 'talent' that Bendtner himself assures people he has. Before the season started his dad was telling anybody who listened of interest in his son from Bayern Munich. He ended up at Sunderland (that isn't a slight on Sunderland, just Bayern Munich are a far bigger team, before the over-sensitive types get riled up.). During his stay on Wearside he, along with partner-in-crime, Lee Cattermole were questioned by police about cars being vandalised around the St James' Park area. There's also a story of how, after a drunken night out, he went into a pizzeria in Copenhagen in December but didn't have his wallet. After some haggling with the owner he demanded that they gave him free pizza because he could buy the whole place if he so wished. Eventually another customer paid for him just so he'd piss off. What a dick.
There seems to be no middle ground for the temperamental Italian. With him it's either the sublime or the ridiculous. Unfortunately, his ridiculous actions outweigh the sublime right now. He stamped on Scott Parker's head (and it was a stamp, none of this 'accident' bollocks). He could have easily ended Alex Song's career with a disgusting knee-high challenge 10 minutes into a game against Arsenal. Later on in that same game he did receive a red card for two bookable offences – even City fans turned on him after this game because he'd 'lost them the title.' He almost got into a fight with teammate, Aleksandr Kolarov, over who was going to take a free kick in a match against Sunderland. There've also been numerous reports of bust-ups with influential midfielder Yaya Toure as well. I think temperamental was a bit of an undersell to be honest.
So there you have it, the biggest dickheads from this year's Premier League. I'm sure there are a few I've missed out so feel free to add anyone in the comments below as well as reasons why.