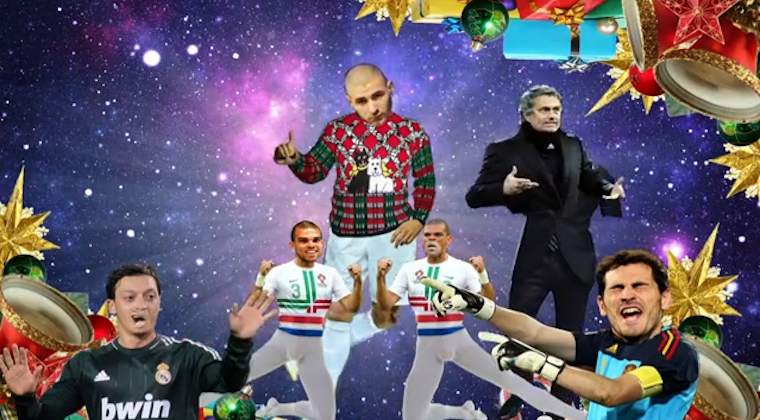 This is seriously weird, although I wouldn't call it the most surreal video of the year. On that note I don't know what I would call the most surreal video of the year but I feel like something more bizarre then this must have happened because it's not even real, it's just something that some guy made although it is really really weird. Basically, some complete weirdo thought that the world needed a Karim Benzema Christmas song despite the fact that Karim Benzema probably isn't even celebrating Christmas as he's an openly practicing Muslim.
The video is just of a stick puppet /Phone Jacker version of Karim Benzema dancing around the screen in a Seth Coen esque Christmas jumper whilst some guy who sounds kinda Turkish or Egyptian or something (probably should have just said Middle Eastern or something so I don't get into trouble by stereotyping accents but I'm in a rush so whatever) singing Karim Benzema over and over again in a really weird voice. There's also cameos from a whole supporting cast of weird looking looking Real Madrid players, including Mesut Ozil, Pepe and C Ronaldo. Messi and Mourinho makes appearances too as the song builds to its climax of Karim Benzema wishing you a Merry Christmas then singing his name a bunch more times.
Messi gets headbutted out of the way by Pepe which is pretty awesome. Sure, break the record for the most number of goals in a year why don't you, you ain't getting any respect off Karim Benzema son. There's also a really weird bit where a guy with a six pack is listening to the song in a hot tub on a beach. I didn't really understand that bit at all but I guess it just makes the whole thing more surreal, which is perfect. Angel Di Maria shows up really near the end too with angel wings, you know because it's Xmas, right? That obviously makes sense. Did anything I just write make any sense? Probably not but then I guess that's the beauty of stuff like this.
I don't know who made it, my best guess would be the guy who made Phone Jacker but I think it would probably be more popular than this if it was that guy. The YouTube account credited with it is called Toke Lotz which kind of sums it up. I guess one of the funniest things about it is that they chose Karim Benzema to be the centrepiece of it. I mean he's pretty good but come on, nobody LOVES Karim Benzema except maybe some French Muslims or whatever, he's just some pretty good player playing for Real Madrid. Nobody in their right mind would make a Christmas song about him. Again, I guess this is what makes this video so good. If you're stumped what to give your buddy from work for a secret Santa present maybe you should just send him a link to this as it's guaranteed to put a smile on everyone's face.
Check it:
☛ More: France's New Away Strip
☛ More: Footballers Of The World 
☛ More: Who Is The Most Ugly Footballer? 
[yframe url='http://www.youtube.com/watch?v=aS9VY2aJ1TQ']