South African 'couple' 9 year old Sanele Masilela and 62 year old Helen Shabangu have renewed their wedding vows a year after they originally made them in order to make them 'more official'.
Now, you're probably thinking that that is completely gross and perverted but it's nowhere near as gross as it first sounds although it is kind of weird. Apparently the marriage isn't actually real – thank god – but has just been performed in order to appease the couples' dead ancestors, who reportedly told Sanele that he had to do this. Not one to risk the wrath of the dead, Sanele immediately went to work about making this happen and recruited Helen – who was already married and has five kids – into the cause.
She was more than ecstatic that Sanele picked her and was happy to go through with the ceremony originally a year ago and the marriage renewal a couple of days ago. The renewal took place at Helen's house in Ximhungwe in Mpumalanga in front of around a hundred guests and the couple shared a piece of cake, a toast and even a kiss, which was probably a bit too much considering how weird the whole thing is to begin with.
Having said that though Sanele and Helen aren't going to live together following the ceremony, and it's not legally binding and was seen more as a 'ritual' rather than an actual marriage. A good question is whether or not their wedding photographs are going to look as weird as these ones though?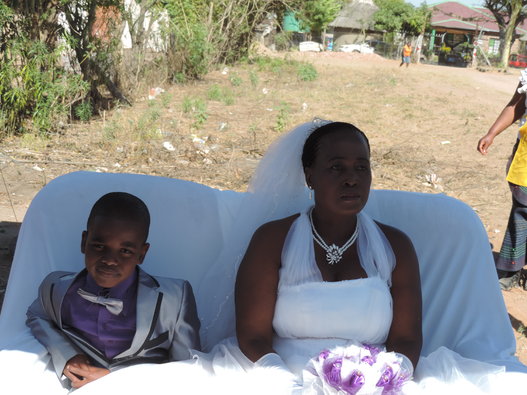 Some people in their village – who presumably are somewhat normal – condemned the whole thing as sickening but a lot of people were supportive, including Sanele's mother and Helen's husband. Sanele's mother Patience had the following to say:
'Sanele was fine and he was happy about the ceremony last year and it what he wanted — he was not shy. He was just happy to get married, very excited and was not embarrassed about it. So much so he wanted to do it again.

'After the wedding last year people keep asking them questions like will they live together, sleep together, have babies but I keep telling them that after the wedding everything went back to normal nothing changed. Sanele moved to Venda not long after the wedding because he wanted to learn a new language, but they are very close. Our families are very close.

'It was nice celebrate with a wedding once more, it was after all a calling from the ancestors. By doing this we made the ancestors happy. If we hadn't done what my son had asked then something bad would have happened in the family.'
Helen's husband Alfred said: 'My kids and I are happy because we don't have a problem with her marrying the boy – and I don't care what other people say' whereas Sanele recognises that the marriage isn't real and intends to work hard in school and then marry a woman his old age when the time is right. We can only wish him the best of luck with that and hope that his future bride to be doesn't have a problem with the fact he 'married' a 62 year old woman when he was 9 years old. I can't think that she will, do you?