Zlatan Ibrahimovic and Romelu Lukaku clashed during a fiery Milan derby the other night, and would have undoubtedly come to blows if it wasn't for their teammates separating them.
Featured Image VIA
The Inter Milan and AC Milan strikers were both on target in the Coppa Italia clash between the two local rivals, with Ibrahimovic eventually being sent off. Inter ended up winning the tie 2-1.
This is the moment the game will be remembered for though – Lukaku telling Zlatan "f-ck you and your wife":
Lukaku say he go fuck Ibrahimovic's wife den things 😂pic.twitter.com/GcDykq3fD2

— Bla Yaw✝🇬🇭 (@obrempong__) January 26, 2021
Lukaku also appeared to suggest taking things outside with the Swede, to which Zlatan replied:
Okay, call your mother.
The Belgian was not impressed, saying:
He wants to talk about mothers? Son of a bitch.
The comment that caused the most controversy though, aside from Lukaku threatening to f-ck Zlatan and his mother, was Zlatan telling him:
Go do your voodoo s**t, you little donkey.
Uh oh. A weird thing to say with some seriously racist connotations. According to Sky Sport Italia, AC Milan representatives have spoken to Ibrahimovic about the comments, and the striker denies any racial intent.
Instead, he claims it was a reference to Lukaku turning down a new contract when he was at Everton, with the Toffees' major shareholder Farhad Moshiri saying he did so because of a 'voodoo message'.
Moshiri said in January 2018:
We offered him a better deal than Chelsea and his agent came to Finch Farm to sign the contract.

Robert [Elstone, Everton's chief executive] was there, everything was in place, there were a few reporters outside, then in the meeting Rom called his mother.

He said he was on a pilgrimage in Africa or somewhere and he had a voodoo and he got the message that he needs to go to Chelsea.
Well, when you add that context to it, I think we can accept that was what Zlatan was referencing, and he wasn't just being a racist prick.
Although funnily enough, at the time, Lukaku denied the voodoo story and threatened Everton with legal action after he actually departed for Manchester United, not a return to Chelsea. His representative had said at the time:
Romelu's decision had nothing to do with voodoo. He distances himself from these beliefs and this statement and will now see what judicial steps can be taken in relation to them. Romelu is very Catholic and voodoo is not part of his life or his beliefs.
Well that settles that then, though obviously someone like Zlatan is going to hold onto that information and have it ready when an opportunity arises to take the piss. Shame really, they seemed to get on well enough in their Manchester United days: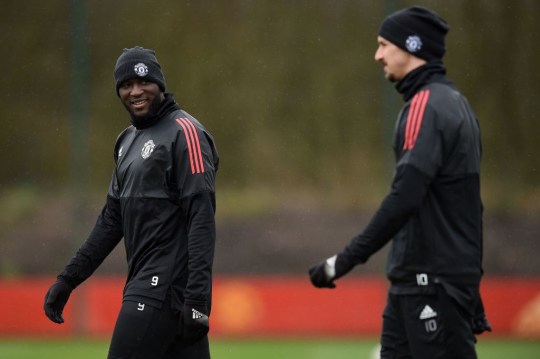 Question is – who would win in an actual fight? Zlatan or Lukaku? I know Zlatan has some martial arts training but watching that clip of them butting heads, it feels like Lukaku would smash him in a street-fight scenario. He just seemed angrier and more up for it. Who knows though?
For the time Zlatan was being a complete dick to a Real Salt Lake player and terrorised him throughout an entire game, click HERE. Guy knows how to push people's buttons.