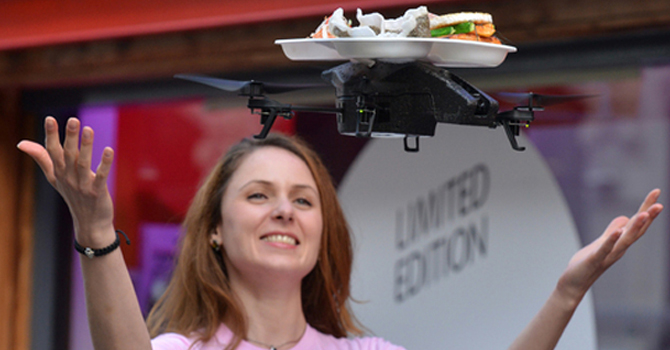 You may remember reading about the Domicopter last week, well now it seems another restaurant has jumped on the remote control delivery service bandwagon. Many people around the UK have been drawn to YO Sushi! because they're cool enough to deliver your food on a conveyor belt – I know, amazing right? – but the Japanese chain have now gone one step further and will serve their food by flying it around and hovering it in front of your face.
☛ Next: Steak And Cheese Sushi Roll
The adventurously named iTray which is being trialled in the Poland Street, London restaurant, is due to roll out across the UK next year. The flying tray is powered by four propellers and controlled by the waiter using an iPad, with two HD cameras giving a real time video broadcast.
I'm slightly skeptical as to how well this seemingly pointless idea will work. The promo video (seen below) seems to focus on how great YO! Sushi is and how amazing the new YO! Burger is. There's only a few seconds of the iTray in action and even then it's only flying a few feet outside and just floating around, not actually serving anyone.
I'm sure they'll be many cases of food getting spilt everywhere but the people pretentious enough to go to YO! Sushi and order their 'futuristic' YO! Burger probably deserve a face full of food if they want it served by a robot.
[yframe url='http://www.youtube.com/watch?v=y9RKXO1rr7g']
☛ Next: Foreigners In Japan
This may be a look into the future, where we'll be ordering food on a pad at the table, cooked by some robot in the kitchen and delivered by a flying waiter but I think YO! Sushi have jumped the gun and are trying to be a bit too clever by launching this not so new and innovative idea at the same time as a new addition to their menu.