A Cardiff woman has been left 'speechless' after she was abruptly shut down by an animal shelter when she expressed an interest in adopting a puppy.
Featured Image VIA
Alice Gray, 29, put in a request for the puppy named 'Angel' and, well, have a read for yourself to see exactly what happened…
Honestly trying to adopt a dog is turning out to be a brutal experience, filled with instant rejections and rude, judgemental replies.

Tell me I'm not suitable without virtually spitting in my face why don't you.

— Alice Gray (@AliceJaneGray) March 17, 2021
And the exchange between herself and the animal shelter:
I applied for a dog today. This is the story in four parts.

I'm actually speechless. pic.twitter.com/QckA1xAZY0

— Alice Gray (@AliceJaneGray) March 17, 2021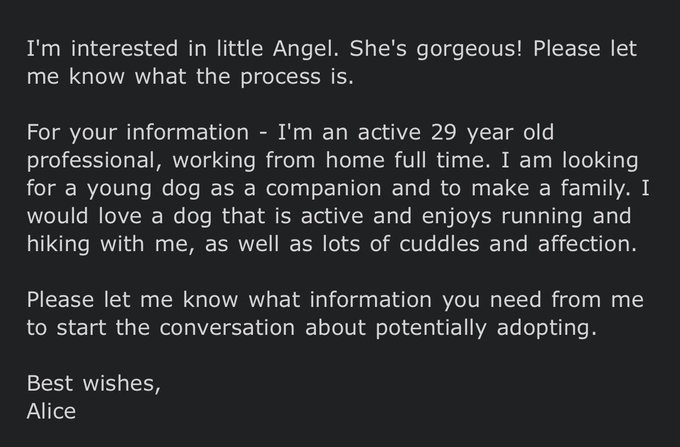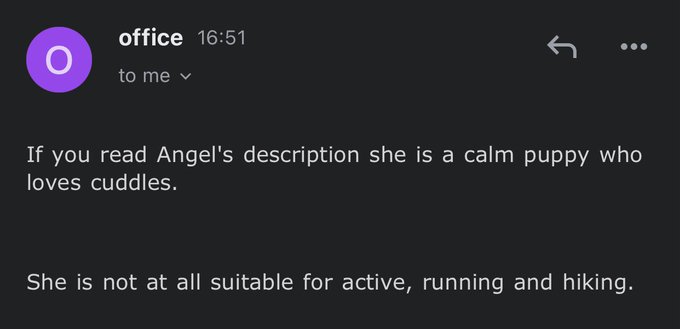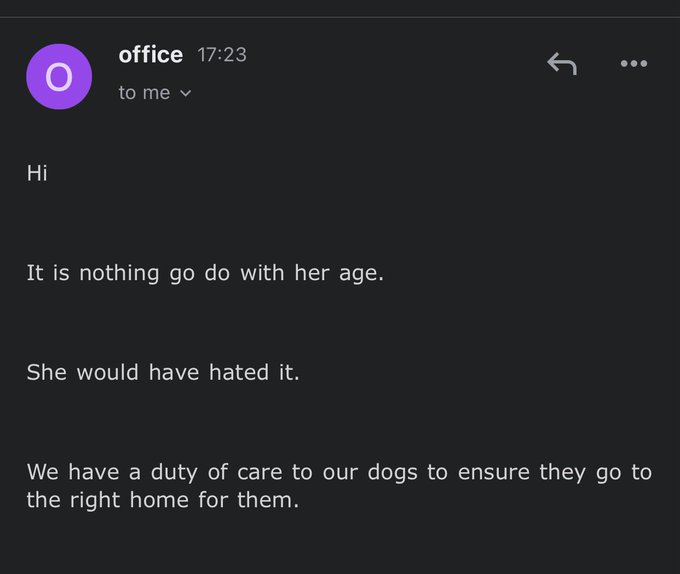 Lmao. "She would have hated it" – what a response. Genuinely one of the most joyless and tactless things I have ever read. Yeah OK it's obviously important to find the right home for every dog before they're adopted, but that was just such an unnecessarily brutal takedown by the animal shelter that you just have to laugh. I don't even know if it was a man or a woman who sent that e-mail but you can just sense the tone behind it perfectly.
Personally, I'd love to meet this dog. Anti running? Anti hiking? Sign me up. Sounds like all you need to do is walk him around the block once a day and then he's ready to call it a wrap and lay in bed for the rest of the day. Probably a good idea to just show up at the shelter and apply there though. Don't need to be dealing with some moody Karen/Kevin over e-mail when I'm just trying give a puppy a better life.
To meet the very good girl who saved her family from a home invasion after being shot twice by burglars, click HERE.