There's so much going on in the world right now that it's tough to spare any sympathy for new things, but having said that please spare a though for this woman named Crystal Coombs who has literal pubes growing out of her face. 
Featured Image VIA
Crystal's issues came about after a dog bit a chunk out of her face when she was nine years old. The hospital told her family she should get a skin graft, so they did, except the dumbass surgeon decided to take the graft from her groin. Um, why not take it from literally anywhere else?
Crystal told 'Botched' doctor Paul Nassif:
He suggested the skin graft, [and to] take it from the groin. They did the surgery, and then the hair started growing.
After being asked by Nassif to confirm that this gave her pubic hair on her face:
Yes. Literal pubic hair. I don't believe that the doctor mentioned I would grow pubic hair out of my patch. I don't remember that.

I, at first, thought it didn't affect me. Since having my daughter, I really started to get conscious of it. She's 6 months, and I'm worried about the kids she'll go to school with … I don't want her to be teased.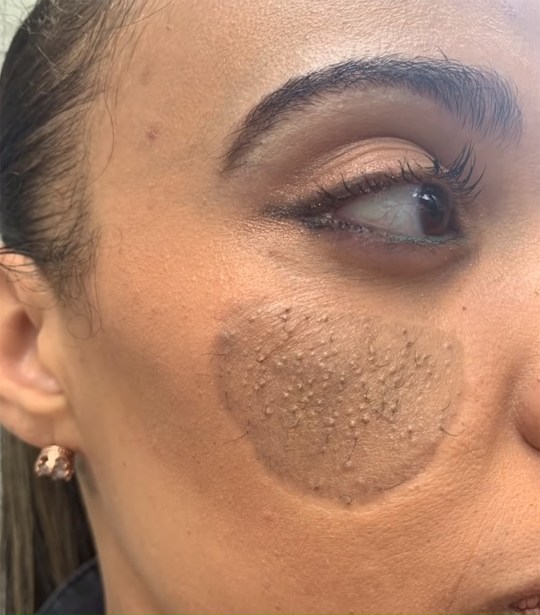 I hope her daughter doesn't get bullied over this either but that's probably inevitable now that her mum has gone on national TV and told the world she's got pubes growing out of her face. I mean that is grade A school bullying material right there and that's just the unfortunate reality.
Let's hope the Botched team manage to correct this issue for Crystal because I'm sure everyone agrees that having pubes grow out of your face is the stuff nightmares are made of. Even if they're your own pubes. It's just no way to go through life.
For the woman who made a dress made entirely out of other people's pubic hair, click HERE. Gross.
[h/t Metro]