Everyone celebrates Valentine's Day in their own ways and usually whatever you want to do is fine, but Merelize Van Der Merwe is facing a backlash after she posed with the heart of a giraffe she killed to celebrate the holiday with her husband.
Images VIA 
The 32 year old hunter shared the photograph on Facebook after her better half had spent over $2000 to make her dream come true in a South African game park. She plans on using the giraffe's skin as a rug and captioned the photo like this:
Ever wondered how big a giraffe's heart is?

I'm absolutely over the moon with my BIG valentine's present.
Lol. Of course, animal rights activists were quick to call her out about posting such content, but Van Der Merwe clapped back by saying that killing the giraffe actually meant that she saved a bunch of endangered species and provided work for a whole bunch of people in the park: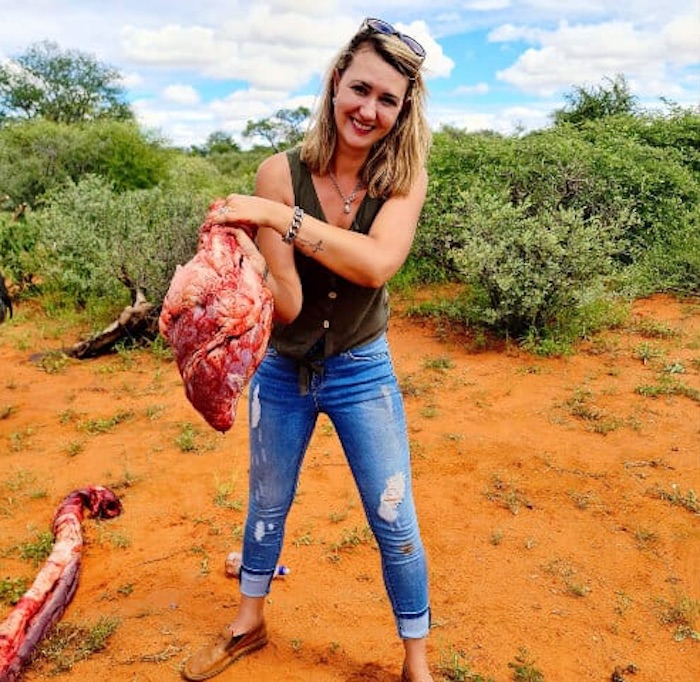 I posted the photo to taunt the animal rights lobby.

I have no respect for them. I call them the mafia.

I'd waited years for my own perfect bull – the older a bull gets the darker he gets.

I love the skin and the fact it's such an iconic animal for Africa.

Our plans changed quickly. My wonderful husband Gerhardt knew this was my dream.

I was like a child for two weeks, counting the days. Afterwards I was flooded with emotions.

The kill created work for 11 people that day and lot of meat for the locals.

The old giraffe's death means that a new bull can take over and provide new, strong genetics for the herd.

If hunting is banned, animals will become worthless and will disappear.

Hunting has helped bring back a lot of species from the brink of extinction.

The only people protecting these animals are trophy hunters.
Yeah, I'm not really sure if that argument is factually correct – a bunch of people have already emerged to debunk it – but it doesn't seem like Van Der Merwe is going to come out and be changing her opinion any time soon. She's already killed over 500 lions, leopards and elephants during her hobby. Some people are just different I guess, but it doesn't make it right.
For more of the same, check out this big game hunter sharing a video of himself mauling a lion. He didn't get any sympathy for that either.