Everyone reading this has probably eaten multiple packets of crisps in their lives and there's probably only been one or two times when they've discovered an abnormally large crisp in their packey – it just doesn't happen that often – but I can pretty much guarantee that nobody's ever picked up one as big as the one in this article.
Images VIA
The gigantic onion ring was discovered by 38 year old Janine Ross in Liverpool, who was hanging out with her friend's daughter Izzy and couldn't believe her eyes when she was fishing around in the packet and found the seven inch monster: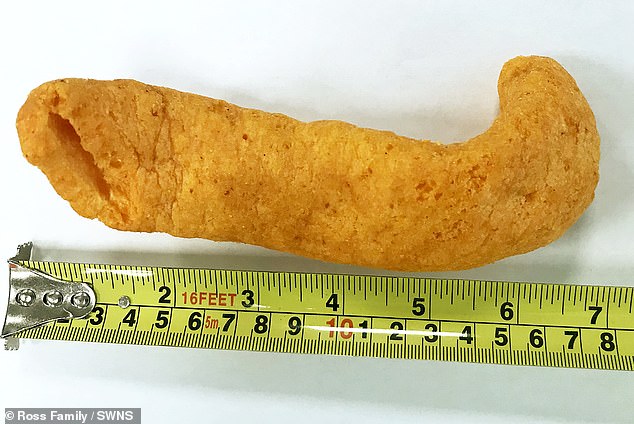 We were at a birthday party when I found it, every was shocked and just started laughing hysterically.

We weren't expecting one that size, we have quite a few packets a month and they are usually the regular 'o' shape – but this one was huge.

If it was straightened out it would be about 20cm long, I took a picture of it by a tape measure and you can see it's massive.

It looks like a production line error. It's like they all come in a tube and are cut down, but that process missed this one.

This one must have slipped the net, it feels lucky – we might go buy a lottery ticket now.

We haven't eaten it, it's our prized possession. I might give it to Izzy – if she behaves.
Yeah I dunno if I would trust Izzy with it – she would probably just eat it – but maybe Janine should be thinking a bit more about this and maybe sending it to a museum or something? Stuff like that really needs to be preserved and documented, no?
For more giant crisps, check out the world's biggest Frazzle. Impressive.