An 18-year-old university student was rushed to hospital from an exam hall after going into labour, only to go back and complete her tests 30 minutes after giving birth.
Featured Image VIA
Fatoumata Kourouma turned up to the exam hall in the Guinean town of Mamou on Tuesday morning but staff sent her to hospital.
I decided for myself that I wanted to complete my baccalaureate.

I'd started having stomach pains on Monday night but didn't know I was going to give birth.

I worked up the courage to do the exam the next day, without saying anything to my husband or the school.

I was worried they might ask me to stay at home or visit the doctor.
It was only once she was at the hospital that she realised she was giving birth. After her baby boy was born, she handed him over to her parents and rushed back to the exam hall to finish her baccalaureate exams in Physics and French.
The session had already begun but the invigilators allowed me to go back in.
Fatoumata says both she and her baby boy are in good health.
Guinea is one of 18 African countries that have no policies in place to keep pregnant girls or adolescent mums in schools, according to a recent report by Human Rights Watch.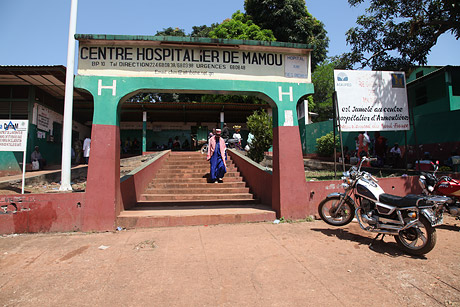 Welp, how does this make you feel? You barely make it to your 11am lectures and here's this badass racing back to sit her final exams literally half an hour after giving birth. That is just unreal toughness and determination that you would never see in more privileged countries where they give you an extension on your essay because you had a bad weekend and are "stressed" or whatever.
Unless… this was a genius plan by Fatoumata to cheat on her final exam? We've seen people write exam answers on their wrists, in a calculator, ask to go to the bathroom and whip out their revision notes etc. Imagine if Fatoumata looked at the exam questions and then took 30 minutes while giving birth to look up all the answers. That would be pretty brilliant to be fair.
For the Oxford uni students who threw a drug-fuelled orgy where they spanked virgins and had live sex shows, click HERE. Get Fatoumata on the exchange program ASAP.