There's one thing that you can rely on when you head down to your local fish and chips shop for a meal, and that's that you're usually going to get an absolute mountain of food that's probably going to be pretty difficult to finish eating.
Featured Image VIA
If you go to a pub restaurant however that might be a slightly different story, as Tina Doherty from Liverpool went out and ordered the classic meal from The Jolly Miller Pub. Tina and a couple of her friends were having the food after a night of bowling and they ordered their meal from the two for £5 menu, hoping to get a little bit more than what actually ended up arriving: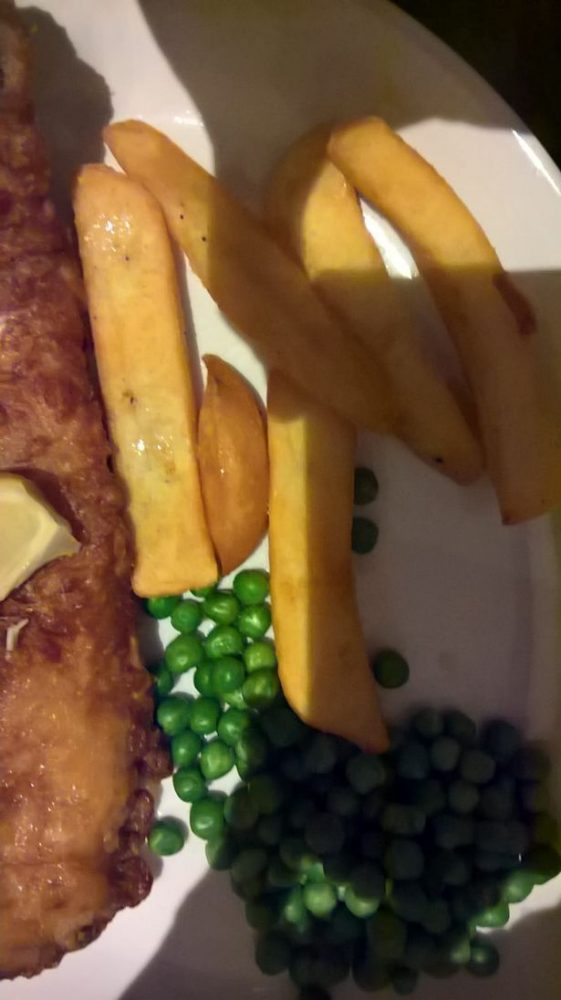 Yeah, I can't really disagree with her being angry there considering there are only six chips and a lot more space on the plate. Sure, there's gonna be less chips when you're ordering the meal from a pub but you still expect more than six. It's hardly a hearty portion of peas either. Completely skanky.
She sent the picture to her husband Kevin via Whatsapp and he told her to complain, earning her a free meal. He then also went to the local newspaper The Liverpool Echo (son of a bitch) and told them the following:
he sent the picture on Whatsapp and I must admit I laughed.

I was at home with our son and daughter and we were just sitting down to our man-sized portions of curried prawns, rice and real homemade chips.

My wife isn't the type of person to make a fuss or complain, but I immediately said to her that I would have sent that back and said 'I think you have forgotten to put some chips on my plate'.

It is basically five and a half chips and the other meals were the same, I think they had one portion split between four.

I don't know how anyone could justify or explain that as a portion of chips.

It looks like a toddler's meal and even they would be able to polish off more than five chips.

I think they are being a little bit extreme with their economising. The chef or cook who works there needs to look at how many chips are in a portion.

You wouldn't even have enough to put on a butty with that portion.
Think Kevin's probably going a bit overboard with his five minutes of fame there, but he has got a point about it being pretty out of order serving so few chips. At least his wife got a free meal out of it though I suppose.
For more fish and chips, check out the biggest portion of fish and chips in the country. I guess Kevin would probably be happy with that.