Over in Poland, a woman has been caught filming pornography in church when a fan recognised her distinguished breasts.
The search for the woman began when the porno was brought to the attention of Priest Bernhard Pauer of the Diocese of Linz and he initiated a campaign to find her. Bernhard himself hadn't seen the movie himself of course – it was brought to his attention by a parishioner, who probably had to say a bunch of Hail Marys after this admission.
Bernhard's first move was to go to the local police who put out the word and said they would charge the actors with 'desecrating the church and offending religious feeling. They didn't have any leads until images were shown on local television and one man came forward, saying there was no way that the breasts could belong to anyone else except a famous porn star in the region called Babsi. Although probably not as famous as the porn star we interviewed once.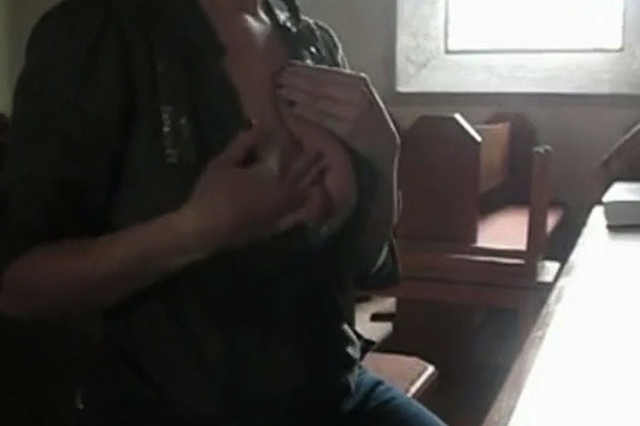 Police immediately tracked down the 24 year old actress and arrested her. She confessed straight away and admitted to filming at least two pornos in the church in June of this year. In the clip that was shown on TV Babsi was just caressing her boobs with a Bible and rosary beads in her hands, but you can only guess what she got up to later in the movie. The church decided that although it was obviously a sin for these actions to be performed in the church, that it wasn't of a level that it would need to be reconsecrated. Phew.
Babsi and her team didn't get off so lightly though – they didn't have permission to film in the church so could be charged with breaking and entering as well as Section 189 of Austria's Criminal Code (which is weird because this is in Poland, but I'm just reporting the facts so don't hold it against me), which bans any mischief that could cause harm to a church or religious community. They face six months in jail or heavy fines if (when) convicted.
Maybe they should stick to the less edgy stuff, like boobs and burgers.