Having always been partial to a bit of Greer, and strongly maintaining that I can down a pint as quickly as the next lad, you may think that when considering issues of feminist equality I would strongly put my foot down on the side of the ladies, however, even I can see when some women just completely get the wrong idea.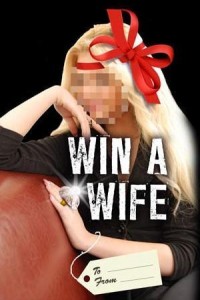 A popular radio station in New Zealand recently set up a competition in which the winner had the opportunity to 'Win a Wife'. You've probably conjured up thoughts of opening the door one day to the Fed Ex guy and signing for your new boxed-up wife, complete with bubble wrap and polystyrene balls. But, alas, the competition was not so inhumane as that. The winner was offered a holiday in Ukraine where he could then choose to meet a woman from the 'Endless Love' dating agency. If the couple then went on to decide that sparks were flying, and believed their love to in fact be endless, then they could go onto marry and tell their grandkids about the wonderful way they came to be together.
Having organised a competition involving nothing more than something slightly more exotic than your average blind date, it is clear that these Kiwis were only trying to spread some love. Unfortunately, (or fortunately, depending how you look at it), some feisty Ukrainian ladies, part of the Ukrainian feminist group Femen, took it upon themselves to get it known that they did not agree with this arrangement, seeing themselves victimised and categorised as not dissimilar to common prostitutes. The ladies went about protesting by standing topless, yes, with out any tops on, holding up banners proclaiming 'UKRAINE IS NOT A BROTHEL'. Errr…. Ladies, surely you're really not helping yourselves?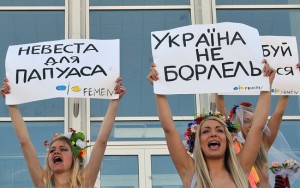 Following these angry protests, the winner has been warned that upon his arrival to Ukraine he should not expect a happy ending. (Again ladies, not helping yourselves.)
Poor guy, he probably only wanted a holiday.