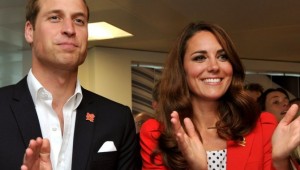 Unless you live under a rock or are fortunate enough not to live in a country completely obsessed with its Royal family, you've probably heard that the (increasingly balding) Prince William and his wife (way out of his league) Kate Middleton are expecting a baby in the next few weeks.
As is customary with royal events such as this one, the country has gone completely batshit crazy with speculation, hearsay, and some truly awful commemorative merchandise. Reams of tacky keepsake ideas and some truly hilarious name sweepstakes however, mean that even the anti-royalists among us can get a kick out of this complete idiocy and begrudgingly contribute to the millions the Palace and government will no doubt make out of the fact that someone as 'interesting' looking as Wills managed to get a decent lay. My personal favourite piece of tat is the 'Royal baby sick bag', pioneered by the (genius) Lydia Leith to provide discreet relief when the inevitable nausea begins to strike.
Of course, regal (also known as boring) names such as Alexandra, Charlotte, George and James have been pinned to the top of bookies' odds tables for some time now, but a few choice monikers have unexpectedly slipped into the running. Following last week's hoo-hah surrounding certain children's names and a charming lady by the name of Katie Hopkins (yeah yeah, we know) Waynetta, Chardonnay, Kai and Stan have all been given odds of as little as 1000/1.
Elvis, Peaches, Frogmella and Tulisa are among my personal favourites, and although the chances of any of these names being the one on display outside Buckingham Palace on the big day are about as slim as being struck by lightning while dressed as a giant penis, I'm still hopeful.
☛ Read Next: The British Public Are Really Stupid