There were a lot of rumours going around on Twitter last night that Manchester United hotshot Wilfried Zaha was yet to make a Premier League appearance for the Red Devils because he had been caught in bed with manager David Moyes' daughter. The rumours were perpetuated by a Twitter account known as the 'The Away Fans,' which is said to be 'for the fans, by the fans' and just seems to post tweets showing pictures of away fans at different football grounds – apart from this one yesterday. If this is indeed David Moyes' daughter Lauren, then I've got to agree with the tweet because no, I can't really blame him.
Zaha has come out today and responded to all these allegations with a tweet of his own, which doesn't really address the rumour directly although it's fairly obvious what he means. However, with these things there's usually no smoke without fire so it seems like there must be at least something going on about it, although I doubt this will ever be admitted or confirmed by anyone as that's just the way these scandals go.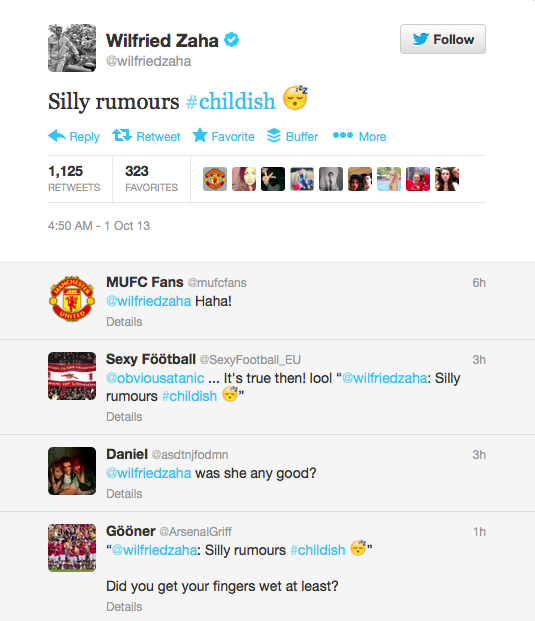 It is puzzling that Zaha hasn't made a competitive start for Manchester United yet, especially considering the nature of his transfer and how crap Valencia, Nani and Ashley Young have been so far this season, and how generally crap Manchester United have been this season too. Still, in Moyes we trust – apparently Zaha had a really good game for the reserves against Bolton last night and might actually be pushing for the first team now. Or maybe he stopped seeing his daughter. Either one might be good enough for the first team.
Interestingly, Lauren Moyes' Twitter account has been suspended, although it seems as though that happened before all this kicked up last night. Still, I wouldn't be surprised if this wasn't the last we heard of this situation.
☛ Check This Out Next: Ridiculous/Awesome Football Photo