The 'Godfather of Grime' Wiley has put his foot in it once again this week by launching a long anti-semitic rant on Twitter in which he called Jews "too touchy" and said that "Israel is not yours" .
Featured Image VIA
Here's some of the stuff he's been Tweeting: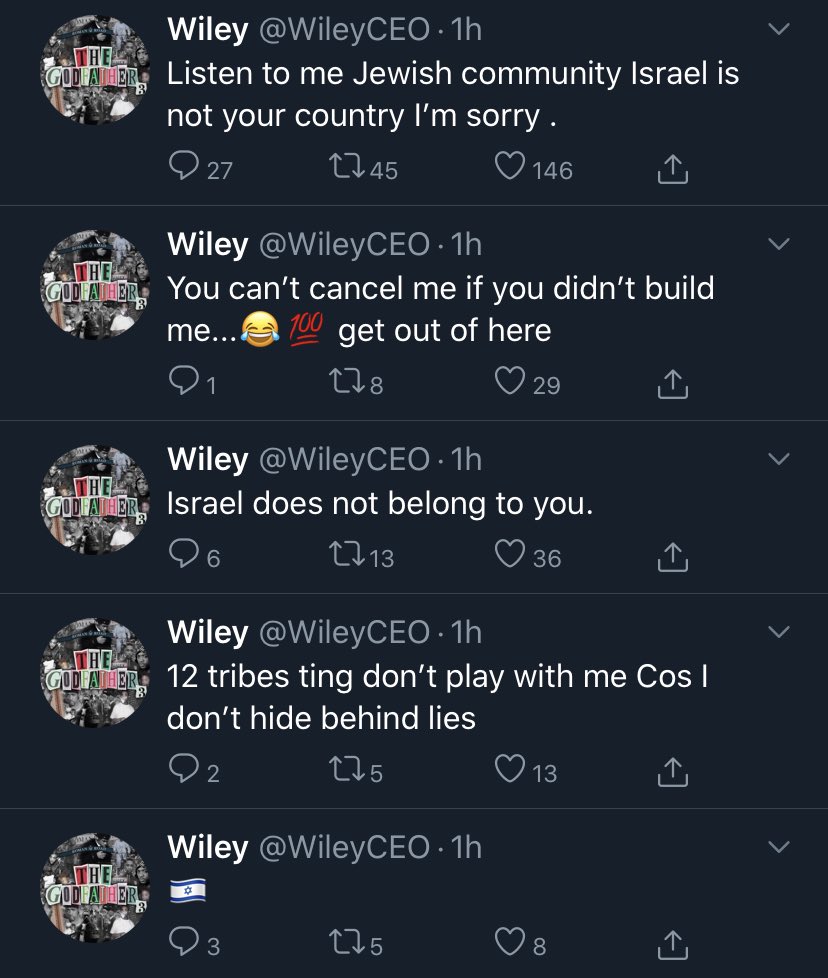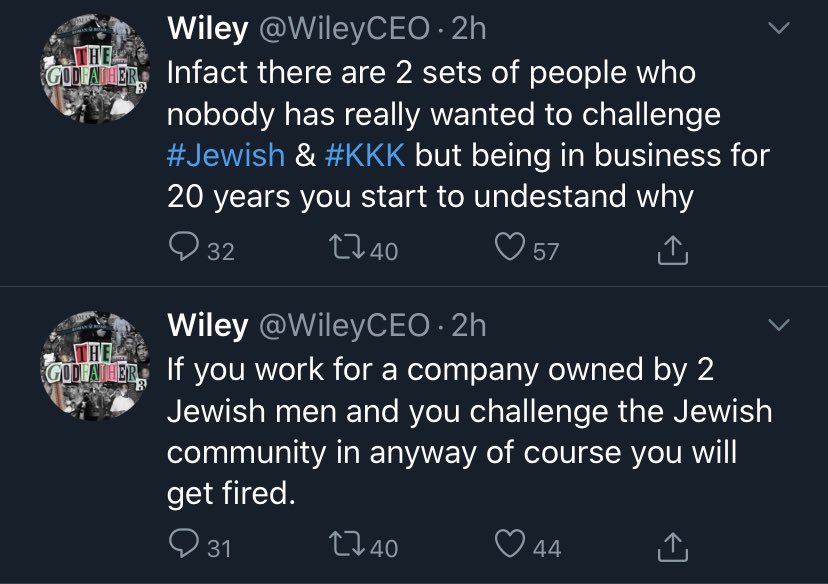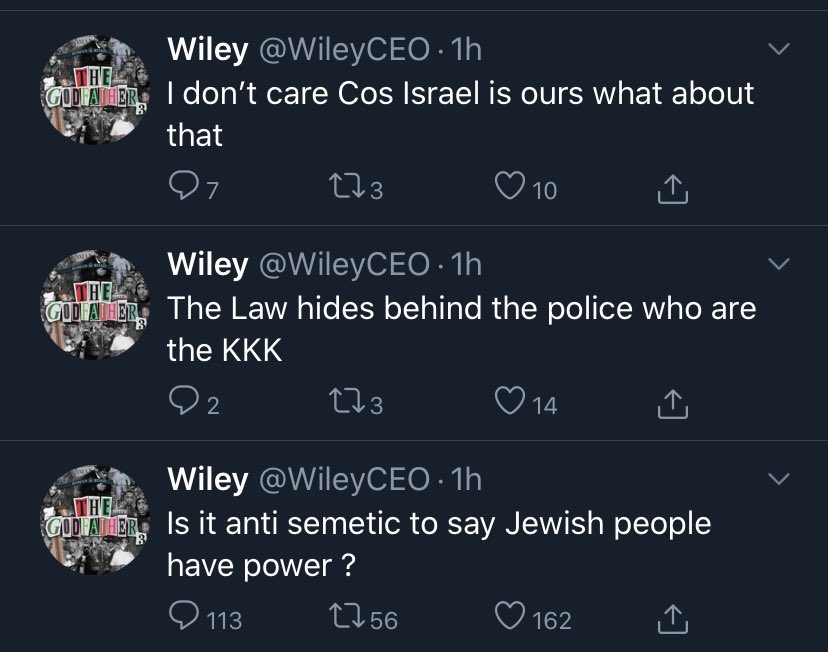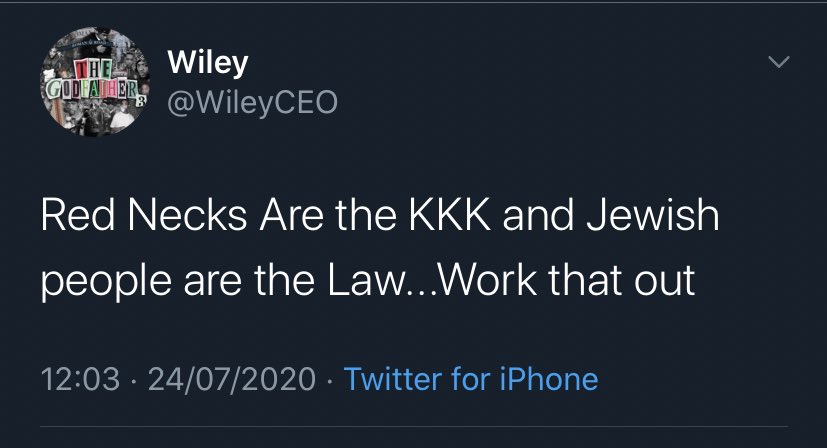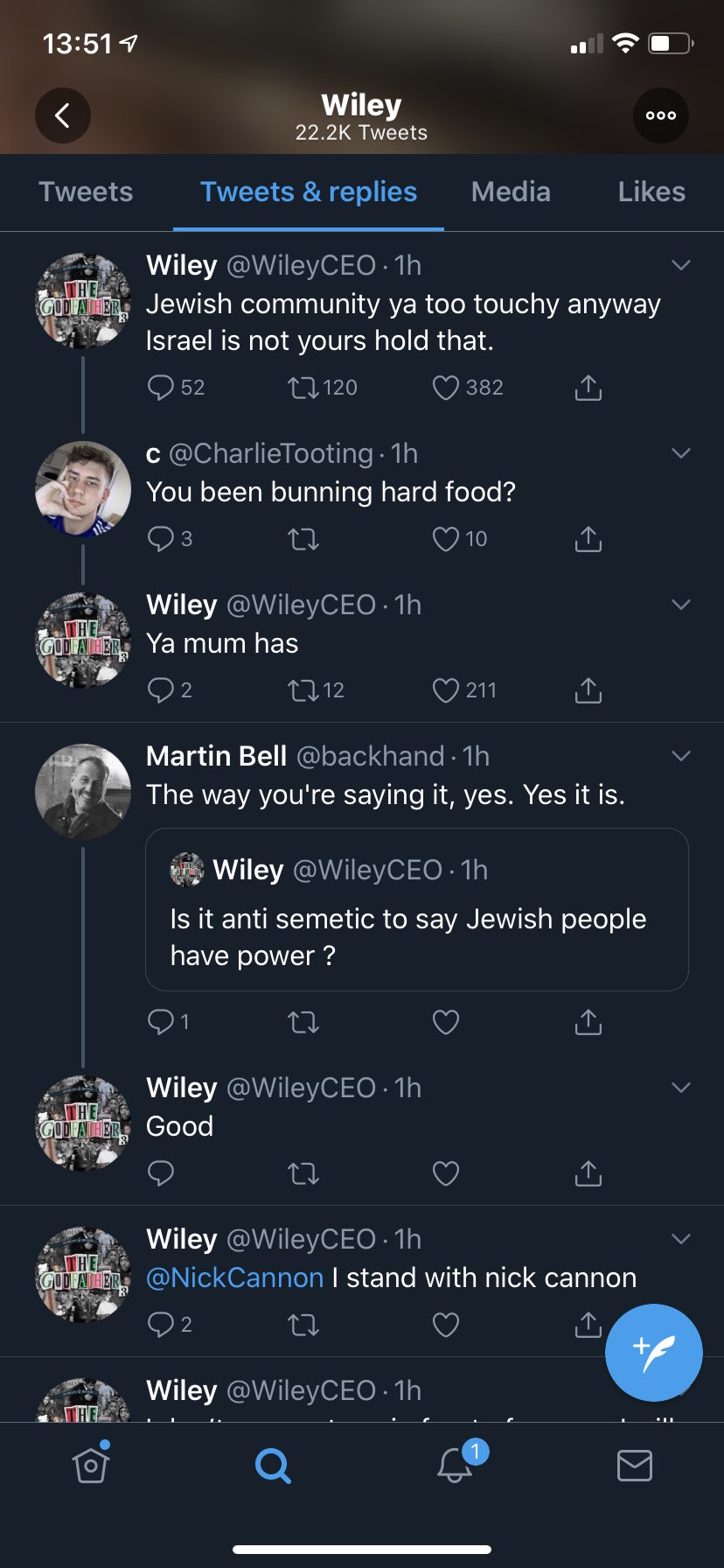 The response has basically been people unanimously telling Wiley that he's a racist and a twat:
Hi @WileyCEO. You know who else shared your views of Jewish power? Clue: First name began with an A, second an H.
You are a racist. Unambiguously. Don't try to pretend you are speaking some sort of truth. You are spouting Jew hate, like neo-Nazis and the rest of them https://t.co/eyu9gP03pQ

— Stephen Pollard (@stephenpollard) July 24, 2020
Didn't realise today would be the day Wiley outed himself as a rabid antisemite but here we are pic.twitter.com/KM4AVxRj68

— Nadine Batchelor-Hunt (@nadinebh_) July 24, 2020
I just realised Kanye tweets like Wiley.

— ㅤㅤㅤJordy (@jordyinit) July 24, 2020
Wiley is doing some real damage…to his career #BoycottWiley pic.twitter.com/VOOOWY5OwF

— Ashley (@ashcporter) July 24, 2020
Wiley is a fucking clown, he'll try anything to be relevant even antisemitism

— (((Lord Leggatt Stan account!!!))) (@WhatCallum_Said) July 24, 2020
Here is Wiley, who earlier tweeted the Jewish community was too 'touchy', positing that being in business gives one insight into why people don't 'challenge' Jews and the KKK. The parallel is offensive & the inference is antisemitic. Jews and money. Dress it up however you like. https://t.co/sKtQYHqaKm

— Danny Stone (@DannyStone1) July 24, 2020
you are contributing to racism with these tweets Wiley, something you claim to be against. Honestly, I'm fucking disgusted with the shit you've come out with today, I never had you pegged as part of the problem.

— isolation disappointment (@matt_broderick) July 24, 2020
Wiley seems to be having a bit of a racist meltdown.

Also tweeting about "the KKK and Jews" being in power. He does know what the KKK did to Jewish people, right? pic.twitter.com/imDl67DfWs

— Alastair Thompson (@AlastairJT) July 24, 2020
Wiley is still doubling down on his comments over on Twitter and boasting about the fact that he's Trending even as this is published, so I guess he's got what he wanted out of this: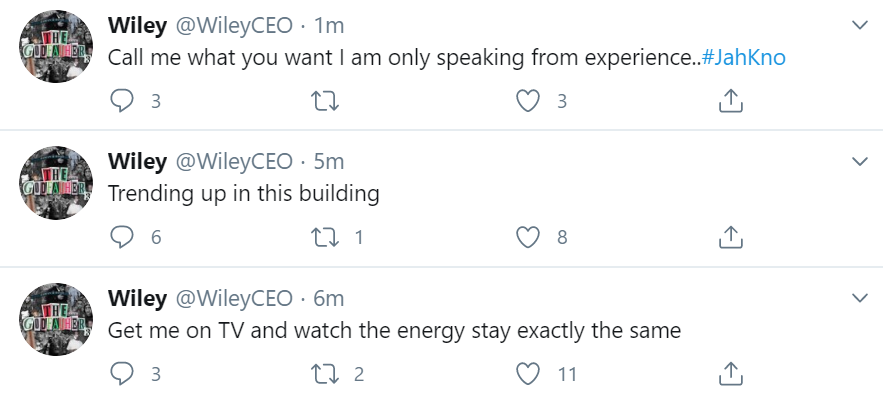 Just Wiley doing what Wiley does? Well, somehow I think this is a little more serious than all the other nonsense he's Tweeted over the years, so I'm not sure he should be celebrating the fact that he's Trending. I mean we all saw what happened to Nick Cannon last week when he made similar comments about Jews. It really boggles the mind that someone can be so anti-racism when it comes to discrimination against their own group identity and then jump onto social media and be so rabidly antisemitic. He's even using the classic "it's not racist, it's the truth" argument to defend himself.
Then again, we're talking about a guy who Tweeted this earlier too:
Fuck the mask Chinese People was wearing that mask so long ago I am wondering if it can save me now HahahahahahAhaha I'm 41 Fuck the mask and virus it's all bullshit

— Wiley (@WileyCEO) July 24, 2020
Never change, Wiley. Um actually maybe change a little bit.
For the story on how Wiley and Dizzee Rascal fell out 20 years ago, click HERE.