I'm a fan of the spicy stuff, I have been for years. In fact my first ever portion of brain goo for Sick Chirpse was called Curry 101: What You Should Know About Britain's Favourite Dish. Click on that if you fancy a stroll down my own personal memory lane.
So I've always wondered what makes the chilli pepper so hot. People always say it's the seeds or it's the capsaicin, and there's an element of truth in both of those but that doesn't answer my question adequately enough for my OCD inquisitiveness.

Humans have been cultivating chilli plants from the genus Capsicum, for around 6000 years in South America. But it wasn't until the 90's that we discovered where the agony comes from. As you've heard no doubt, the active molecule is capsaicin. But how does it hurt you? Capsaicin (8-methyl-N-vanillyl-6-nonenamide) is actually a neurotoxin and binds to vanilloid receptors in certain pain nerves and activates them. It makes these nerves send messages to the brain telling it that there's something bad going on in your gob. These pain receptors also transmit some information about heat, which is why it doesn't just feel sore, it actually feels hot.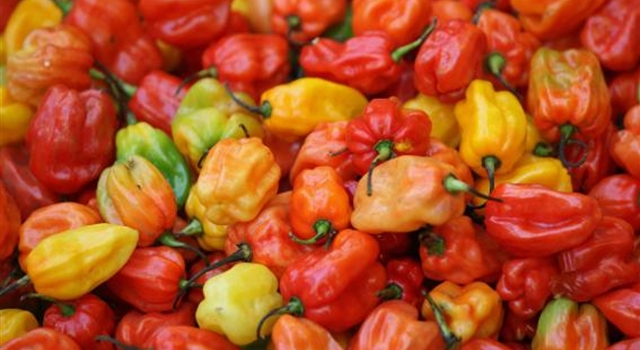 So it's kind of a "false pain", because the capsaicin is triggering the nerves to send signals, but no damage is actually occurring. Regardless of how destructive it feels at the time. The more receptors there are for capsaicin the hotter it feels. That's why it's best not to touch your eyes or crotch after chopping a scotch bonnet. We've all done it and it's no joke. The other day I managed to get some in my butt crack. What an episode that was.
☛ Next: 7 Of The Most Dangerous Foods On Earth