The UK's quite frankly pathetic and humiliating response to the Coronavirus pandemic has squarely been placed on the shoulders of Boris Johnson and Matt Hancock, but now things are probably set to get even worse between the two as leaked WhatsApp messages have revealed that Boris wanted to sack Hancock for Michael Gove.
Featured Image VIA
The leaks come courtesy of Dominic Cummings – lol I bet Boris is really loving the fact that he got rid of him isn't he? – and are dated as far back as March 21st and  April 27th 2020, which is an embarrassingly long time ago. Take a look at them below:
Another: pic.twitter.com/bv8cG6U0np

— Politics For All (@PoliticsForAlI) June 16, 2021
🚨🚨 | BREAKING: Dominic Cummings leaks WhatsApps of Boris Johnson which show he was considering giving Hancock the sack and replacing him with Gove pic.twitter.com/J123H5NjKv

— Politics For All (@PoliticsForAlI) June 16, 2021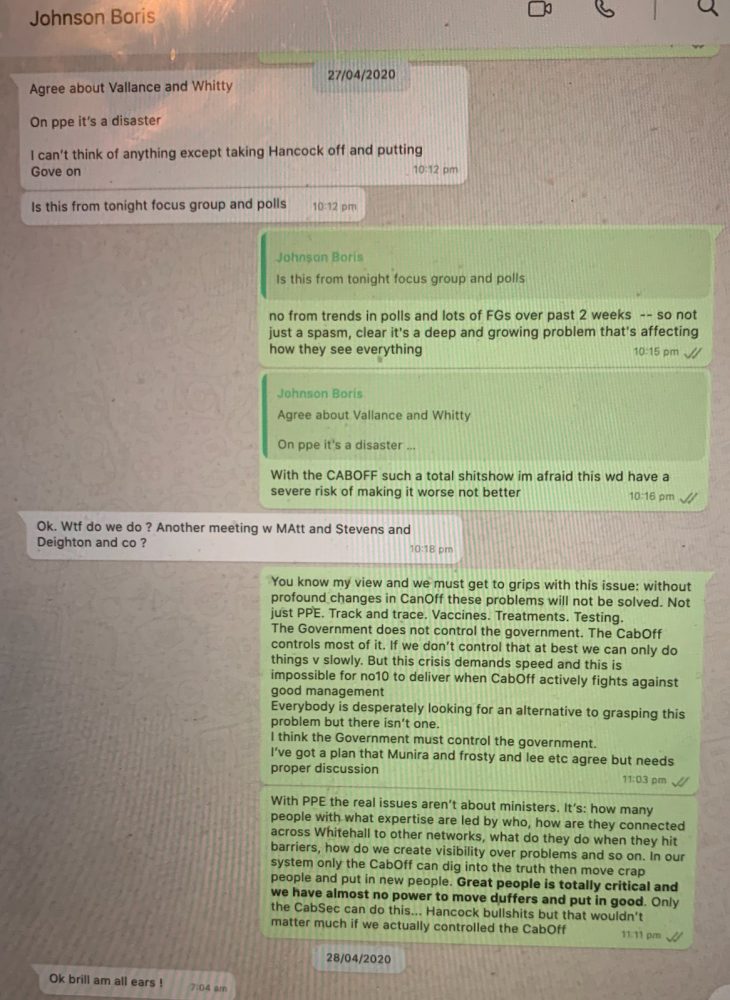 Eek. That's pretty damning stuff considering that Hancock has pretty much only gotten worse since then and it's going to look even more awful that he considered getting rid of him and thought he was being absolutely useless and has stuck by him for over a year. You couldn't really make it up could you?
Although  in fairness, I doubt there will be any consequences or anyone will care because nobody really seems to have cared too much throughout the whole of the government's inept response to the pandemic enough to hold them to account of do anything about it. So it goes.
Also, WTF does Boris put a space before every question mark? Who the hell texts/writes like that?
Whilst we're continuing to hate on Matt Hancock, here's a thread of him being really weird throughout the pandemic. Not just terrible at his job then.