It's often thought that football hooliganism is a thing of the past – at least in this country, let's not talk about the Russians – but it turns out that it is still happening, just nowhere near the level it was back in the 80s.
Featured Image VIA 
The website ticketgum.com have decided to figure out which were the worst fans of Premier League teams last season (2016/17) by looking at how many incidents were reported about each team's away fans on trains when they were travelling to matches. Shockingly, West Ham fans were involved in 10% of the 233 incidents that occurred, with both Manchester teams coming in second and third and Arsenal predictably in 4th place. Middlesborough fans were the nicest, being involved in less than 1% of reported incidents.
Here's what a representative of the British Transport Police said about it, as well as the full list:
Unfortunately, on football match days, law-abiding members of the public and rail staff are subjected to abusive, obscene and sometimes racially offensive chanting, as well as displays of violent behaviour.

We adopt a proactive approach to football policing, with officers escorting trains before and after matches and patrolling stations where large numbers of fans are expected.

Fixed penalty notices are not used for football-related offences, making sure that offenders are charged with the most serious offences their conduct warrants.

One reported incident saw the doors of a train forced open and coins thrown at rival fans. The train lost power as a result and a window was smashed.

Another report saw a female informant witnessing a group of 10 males [who] were wolf whistling, lifting female's skirts and grabbing the backsides of female passengers as they walked by.

Football related arrests on the trains service have increased for the fourth year running, although in general football related arrests are down for the fifth year running.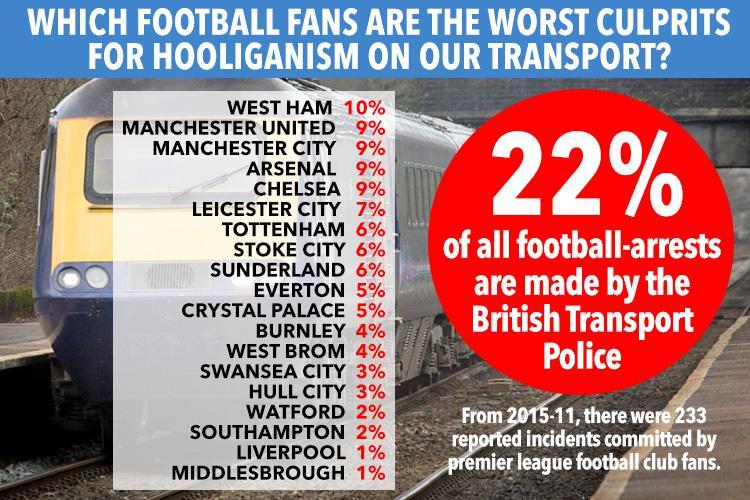 I'm not really sure if judging hooliganism by the amount of incidents on trains is the right way to go about it, but I suppose it's giving us somewhat of an insight into it. In any case, West Ham fans are out in front and that kind of fits in with their narrative of being complete and utter scumbags (at least a minority of them – we've all seen Green Street) so I guess it is a fairly decent indicator of the situation. Hopefully it'll be stopped for good sooner rather than later though, that's all I can say.
For more football hooligans, check out these French football hooligans destroying a little French restaurant. Assholes.