Although Greggs bakery built serious bridges with the vegan community by introducing its meat-free sausage roll this year, some people are still not happy with the way they do business.
Images VIA
Case in point: a group of campaigners stormed a Brighton branch of the company yesterday to demand "animal liberation, not sausage rolls".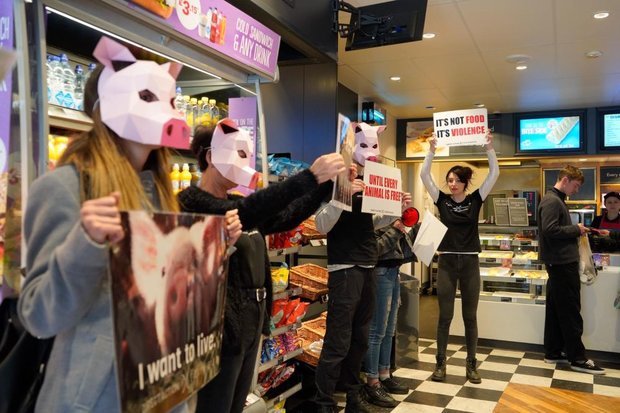 Wearing pig masks and covered in fake blood, the vegan protestors with Direct Action Everywhere entered the shop holding signs saying "it's not food, it's violence", "until every animal is free" and "'humane' murder is a lie", while chanting: "What do we want? Animal liberation! When do we want it? Now!"
The protest is just one of many the group has taken part in over the past eight months as part of an ongoing non-violent campaign to raise awareness about the exploitation of animals. Speaking to various media outlets, they said that introducing a vegan option just isn't enough.
In a statement, one DxE organiser said:
We are drawing attention to the speciesism that shapes our society leading to so much suffering and death.

We don't want more vegan options, we want animal liberation. We want their pain to end and their lives to be protected; not a vegan sausage roll.

We are demanding the abolition of humans using animals, we are fighting to end the horrific oppression animals face in this speciesist world.

We live in a system that objectifies and commodifies their lives and bodies, that injustice cannot go unchallenged. We are part of the fastest growing social justice movement and we are not slowing down.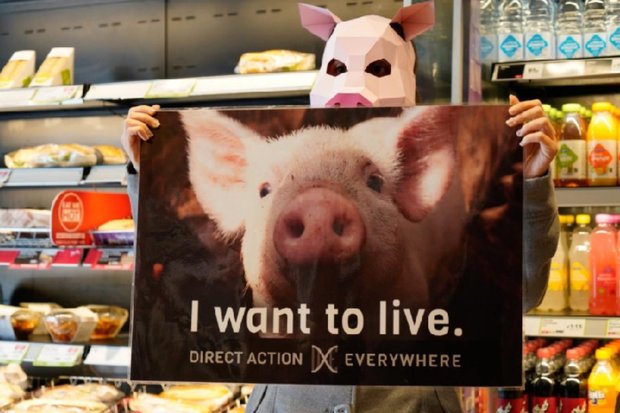 Whether you're for this kind of action or you disagree, there's no denying that the vegan trend shows no signs of slowing.
Same goes for the counterculture of anti-vegan trolls who think it's cruel to avoid eating meat. Just take a look at this guy who has a thing for eating raw animals at veggie events. Of course he's an anti-vaxxer and flat-earther too… what a time to be alive.