Whether you love it or loathe it, the vegan trend is here to stay. Just ask pretty much every fast food joint, having introduced a plethora of meat-free alternatives to some of their favourite dishes. From the Gregg's sausage role to Burger King's Impossible Burger.
Featured Image VIA
Some products, however, just seem impossible to recreate – like pork scratchings, for example. Considering the main component is pig skin, you've got to question whether vegans would even want their own version.
But, of course, someone's gone and made it anyway. Introducing Vegan Pig pork scratchings.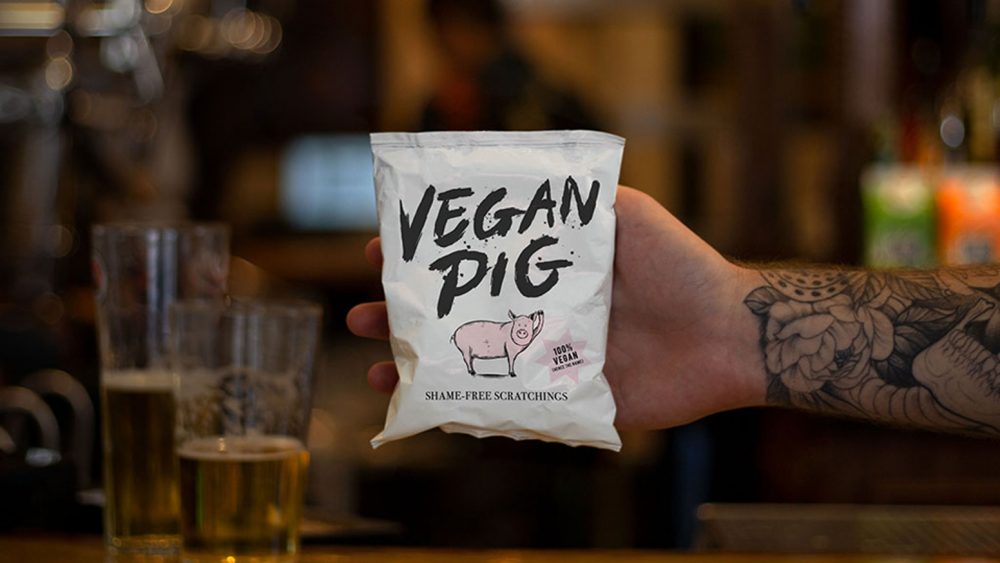 The company is currently crowdfunding on Kickstarter to get their invention off the ground, and they've absolutely killed it so far, making £9,056 at the time of writing (far surpassing their £5,200 goal). Per the description:
Somehow we've captured the taste of the beast. The crunch of the beast. And even that weird little soft bit (of the beast)…

We've overcome challenge after challenge, but now, our next step is getting Vegan Pig into production.

We're asking the Kickstarter community for £5200. This money will help us scale up our production and get our pig snacks out into the world – as well as helping us meet the minimum orders required to use 100% recyclable packaging.

Once we begin to produce them, we'll be able to go from pub to pub to sell this delicious snack – so you can all give them a go yourself, with a nice cold pint.
Of course, the internet's got a lot of opinions – some of them angry, some of them delighted:
Now this is cool.

— Hayley Taylor (@HayleyRTaylor94) August 8, 2019
Oh my days. Need these. https://t.co/SLb9AnG5Ln

— VeganTrailRunr Ⓥ (@VeganTrailRunr) July 26, 2019
Rather eat pig faeces than this. https://t.co/dfi5HfJyhW

— Kurtle. 🐢 (@Kmiles91) July 20, 2019
what a joke! You want to be vegan but everything has to be like meat – hahahahahahahaha – don't make me laugh

— Gardenrose B&B, Luxury Accommodation in Ayrshire (@gardenrosebandb) July 20, 2019
Does anyone make meat products that look like vegatables yet?

— wayne (@wayneshallis) July 20, 2019
To answer that last question, yes, yes they do – just check out these carrot-shaped turkey sticks. Gross.