The world has been pretty interested in Usain Bolt's sex life as it emerged that even though he has a girlfriend he just travels the world, picking up chicks whenever he wants because he's a living legend gold medal winning Olympic athlete. Baller.
Images VIA 
However, the woman that he was pictured in bed with on Monday – 20-year-old student Jady Duarte who was once married to Rio's most notorious gangster – has decided to try and get her own back on him for ditching her by going to the newspapers and telling them that he doesn't have a very big dick. That's the kind of thing you do when you're 15 and get dumped – just spread rumours that they're shit in bed – but I suppose she's only 20 so she's still in that mindset. Maybe she should back it up with one of his dick pics or something.
Anyway, here's what she had to say: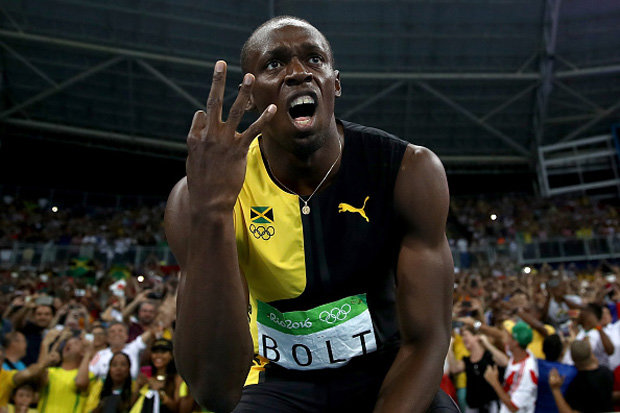 Usain invited me back to the Olympic Village and we communicated via the Google Translate App.

Once there we made love in a small single bed and listened to Rihanna's smash hit 'Work'.

It was very passionate and hot – we were devouring one another.

He has the body of a champion although his male parts do not match – he is just like a regular guy.

We chatted for a bit and engaged in two hour long sex sessions, smashing back some more drinks in between.

I really thought we had something going, but he went to party in London even though he had promised me a second date.

But now I can see that he picks up women as quickly as he picks up gold medals.
Yep, Duarte just kinda sounds like some butthurt girl who's upset she got ditched after she put out and is just using that classic line about them being shit in bed and not having a big dick. I probably shouldn't say that because she used to be married to a gangster so probably knows some dangerous people, but whatever, sometimes you gotta call it like it is.
For more small dicks, check out this teenager who had the first ever dick reduction surgery earlier this year.