What are you looking forward to when the lockdown is finally over? A BBQ? A holiday? Maybe a second wave with a massively increased death count?
Images VIA
Those are all viable options, but one couple over in America have decided to organise an Avengers themed orgy for when we're legally allowed to participate in such activities. 25 year old software engineer Bob and 29 year old sex therapist Alyssa have never attended a sex party before but are willing to give it a go after being cooped up indoors for month and have started flyering for it in their native Philadelphia.
Here's what Bob had to say about it: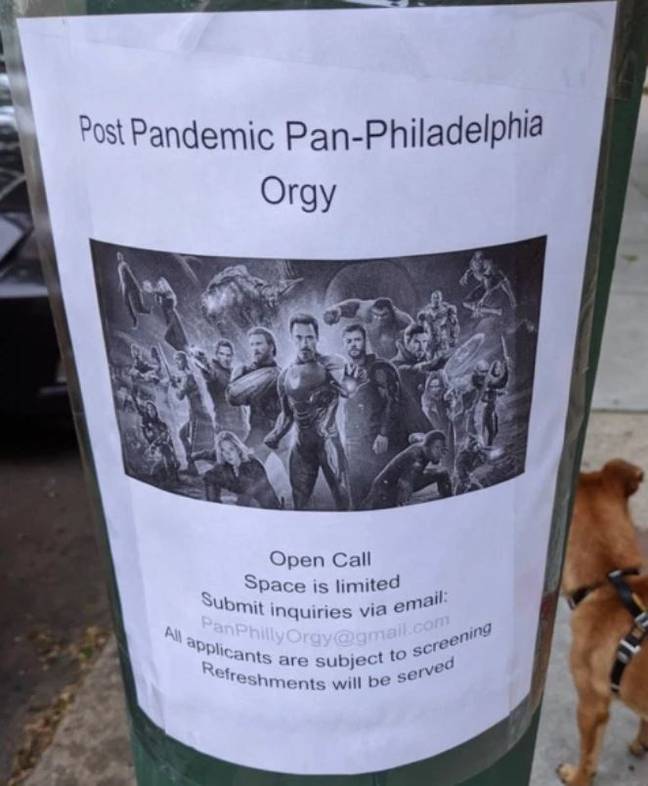 This would be new territory for us, but it's something that we've been open to.

Humanity is currently in the middle of the largest dry spell in all of history, that's what inspired the flyers.

It may seem strange to advertise an orgy in such a public way, but yes, we wanted to bring a smile to our neighbours' faces.

I identify as heterosexual but open to new experiences.

The demand is overwhelming. A lot of messages are just, 'Is this real?'

I think we turned down some people at the beginning because we didn't realise we were for real..

I would say an orgy sounds like a thorough phase green activity.

We don't know what the future holds for us. We just want something to look forward to.
I mean I suppose it would be kind of fun, although I'm a bit confused about the Avengers theme? Like surely if it's an orgy everyone is gonna be naked so it's gonna be kinda hard to dress up as a character? Or are you supposed to stay in character as one of them whilst you're banging away? Think they need to clarify what it actually means before they run into anything.
For more of the same, check out this story about a drug fuelled orgy over in Spain during lockdown. Controversial.