We're over in the States for this one as Indiana University Southeast has advised students to say "ouch!" to anyone who uses language they find offensive, in order to convey that the words "had a negative impact" on them.
Featured Image VIA
Campus Reform reports how the university has published a guide that instructs students on how to "reduce bias in language" and offers techniques on how to respond to others who use language they find offensive. One of those tactics is to say "ouch!" to those who use "stereotypes, offensive or biased comments."
They reckon this is an effective tool "simply to convey what was said had a negative impact on you, regardless if it was directed toward you."
The uni offers examples of language that might require such a response including phrases like "man and wife", "wives" or "mothering". Apparently these phrases can "imply one group dominating over another group".
The university also highlights the importance of ordering groups properly in a sentence, because placing one group before the other "may be perceived as trying to dominate over other groups". They suggest that students construct sentences using "racial minorities and white Americans" rather than "white Americans and racial minorities".
The guide also asks students not to use "labels" to describe people, citing "elderly", "stoner", "nerd", "ghetto", "Jap", "invalid", "retards" and "Oriental" as examples.
Furthermore it touches on "gendered language", suggesting the word "artificial" over "man-made" and "humanity" instead of "mankind". Well, at least they didn't suggest "peoplekind" (shout out Justin Trudeau).
Vice President of Policy Reform at the Foundation for Individual Rights in Education Azhar Majeed says the guide is merely a tool and thus nothing to worry about, and students need to be clear on this:
The guidelines appear to be entirely aspirational, and not intended to be used to investigate or punish students for protected speech.

The guide does encompass a great dealas of everyday expression, and it is possible that some student's speech will be chilled if they are confused into thinking that the document represents official policy of the university.
However, president of campus free speech organisation Speech First Nicole Neily says "language guides like this – even if 'suggested' – have both the purpose and effect of chilling student speech":
Universities are supposed to be places where controversial ideas are vigorously debated in the pursuit of truth – and discouraging students from using common terms because of an overt political agenda undermines that.

Suggesting 'ouch' as a response to problematic language gives further credence to the debunked – and highly dangerous – idea that speech is 'violence'.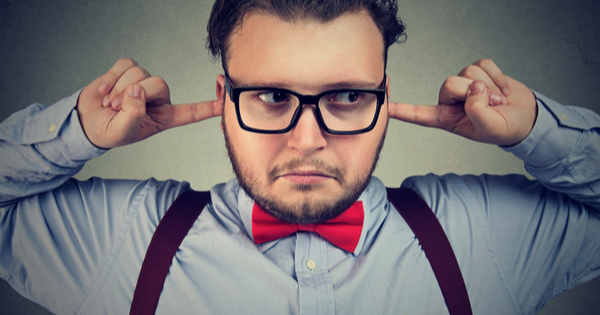 Well I guess this is well-intentioned and all but as Nicole Neily suggests, reacting to language you find offensive with "ouch!" or any other pained response gives credibility to the idea that speech is 'violence', when in fact we (and students especially) need to be able to stumble around and say stupid and/or offensive things so that we might come across the truth, rather than have language stifled and rigidly told what we can and can't say/believe. I mean how is this supposed to prepare anyone for life in the workplace/real world?
Obviously racist/sexist language is one thing, but encouraging the individual to find anything and everything offensive if they wish just muddies the water completely. Let's save "ouch" for actual physical pain (or sometimes exaggeration).
For the time people accused Stephen Fry of being a white supremacist because he flashed the 'OK' hand symbol, click HERE.