Whether you are a casino enthusiast, or you just like to gamble from time to time, you might get bored by the standard games. Playing the same old Blackjack or Poker game over and over again will certainly become repetitive.
Images VIA
We're not saying you should be moving away from the traditional table games, but you could spice up your gambling session with some unique ones. If you're looking for some top-notch online casinos, you can visit kingcasinobonus.co.uk and start your gambling adventure with a lucrative bonus! or check out the best legal online casino in the US.
The games mentioned below may not be as competitive as the classics, but it doesn't necessarily mean they can't be fun and bring you some extra money. Be ready for some titles that aren't as popular, but they have remarkable gameplay!
Here are some creative casino games that are played in a completely different way from the staple titles we all know and love.
Casino War
Remember the basic card game we used to play when we were children, called War? Well, Microgaming has developed a casino version of the game that is already available in both ground-based and online casinos. Similar to the children's games, the greatest advantage of War is its simplicity and, unlike some other casino games, it doesn't require any strategy or preparation. It is purely based on luck and the house advantage is as low as 1.2%. A fun game filled with nostalgia, that you can play for hours without getting bored.
Spin A Win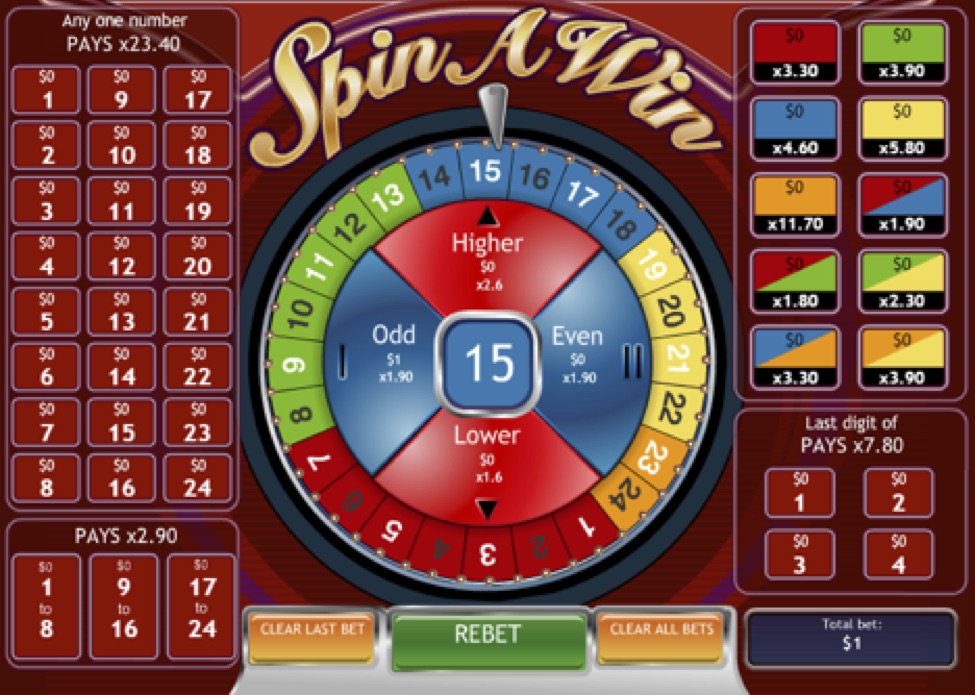 Formerly known as Wheel of Fortune, it is a quite popular game at the brick-and-mortar casinos, and every famous casino from Las Vegas has one at the entrance. Even though there are many variants of the wheel available online, the most entertaining one is by far Spin a Win that is developed by Playtech. You can place small bets of £2 per spin and judging by the odds of this game, you can get a long gambling session with less than £100. The only downside is that, even though it can be fun to spin the wheel, it can quickly become boring, especially if you're on a losing spree.
Sic Bo
Sic bo is an ancient game of luck from China and it's still widely popular in Asia and Las Vegas casinos. It is a dice game, and the winning condition involves making a bet on a condition, including even and odd numbers, but with many more combinations available. The game begins with the players placing bets on the desired areas on the table. The dealer then proceeds to pick up the dice and shake them. The round ends when the dealer reveals the combination of dice, and those that chose the right combination receive their payment. With the advancements of casino technology, Sic bo is available at your fingertips at many reputable online casinos.
Football Studio
Similar to casino War, Football Studio is based on the highest card wins principle. Released by Evolution Gaming, this innovative live dealer game is available to play on both desktop and mobile and it has amazing payout rates. Getting the hang of the game is not difficult. Before your round starts, you will be prompted to choose whether you feel that the home or away team will win the match or if it will result in a draw. When all the bets are in, two cards will be pulled from the deck and put on their dedicate side of the pitch (either away or home). The highest card will be the winner and all the correct bets will be paid out to the players. If you're lucky enough to guess a draw, you will get an 11:1 payout, which will put some serious money in your pocket.
Pai Gow
Considered to be an Asian variation of Poker, Pai Gow is a very popular casino game, especially in China. The game is played with seven cards and your final goal is beating the dealer by getting two Poker hands – one with two cards and the other one with five. Similar to Texas Hold'Em this game has many strategies that can be applied to get a higher advantage against the house. This game has been played at the casinos for centuries, but luckily, Microgaming has released a portable version of the game, which means anyone can grab their smartphones or tablets and play on the go.
It's always a good idea to mix up your casino game every so often. You can find out other creative ways you can make money from gambling, and you also get a better taste of this multi-billion-dollar entertaining business. These games can be enjoyed without necessarily betting on high stakes, just that thrill of guessing the right card is enough to put a smile on your face. Most of these unusual games we discussed can be easily found on many gambling platforms out there.
For more casinos, check out the five best casino game developers in the world today. Legends