Two University of Georgia students were so nervous about their upcoming finals that they advertised on Craiglist looking for someone who would run them over with a car.
The girls stressed that they didn't want to die, just simply "be injured enough to get out of taking our finals here at UGA."
What would the hit and run driver get in return? In the 'compensation' section the girls wrote: "hitting two lovely ladies by vehicle w/ permission."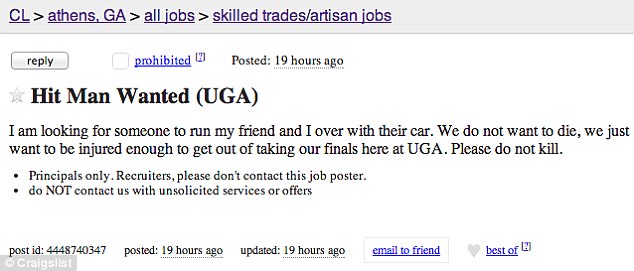 Definitely a move everyone can relate to on some level. I never thought of doing something like this to avoid exams but definitely considered it back when I was doing hotel work. When you've not had much sleep and you're up going into work at 6am the thought of involving yourself in an accident just serious enough to hospitalise you but not serious enough to leave lasting injuries is very appealing. Maybe take it that step further and give yourself some nasty flu virus so that you miss like a whole week of work. Starting to think that having those thoughts is a sure sign that working life has completely fucked you up.
So yeah, someone should look out for these girls because once they're working a 9-5 in the real world they're going to wish they could be back in uni sitting finals again. Might even wish they'd advertised for someone to kill them instead. Anything but the 9-5 life.
☛ More Craigslist: Craigslist Ad Looking For Woman To Sit In Bath Tub Of Noodles For $175